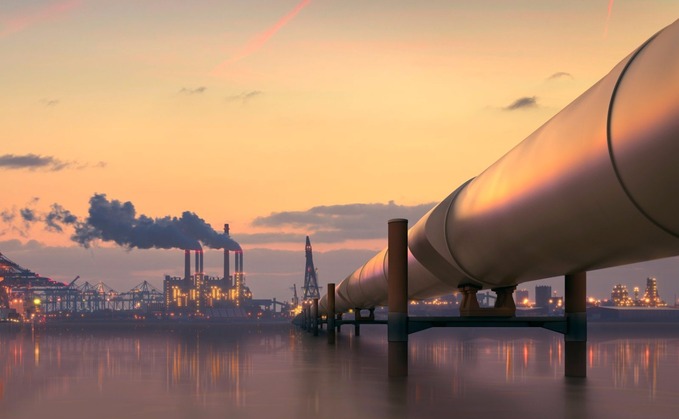 The scale of the changes required to end European reliance on Russian fossil fuels are unprecedented and far bigger than many realise - what is needed is an economic war effort
What is needed is a war effort.
For years, environmental campaigners seeking to shake world leaders out of their torpor in the face of the escalating climate emergency have likened the requisite response to mobilising for war. In a seminal 2016 essay in The New Republic, writer and campaigner Bill McKibben argued global warming represented a "world war aimed at us all" and as such we must fight back. "Turning out more solar panels and wind turbines may not sound like warfare, but it's exactly what won World War II: not just massive invasions and pitched tank battles and ferocious aerial bombardments, but the wholesale industrial retooling that was needed to build weapons and supply troops on a previously unprecedented scale," McKibben wrote. "Defeating the Nazis required more than brave soldiers. It required building big factories, and building them really, really fast."
Of course, action on climate change is not exactly like a war, there is no enemy as such, the changes required are even more global in nature than a World War, and in the face of an actual invasion and all the horrors it entails the war-time metaphor risks sounding glib.
But there are reasons why the analogy has proven so persistent. The idea of the net zero transition as a grand industrial revolution is arguably a more precise historical template, but industrial revolutions do not have to pursue set goals and even the fastest economic transformations play out over half century-long timeframes. The scale and pace of the emissions reductions required to deliver on the goals of the Paris Agreement - a near halving of global emissions in less than a decade, a net zero emission economy by 2050 - cannot be delivered without an industrial and policy overhaul more akin to the Allies' World War Two mobilisation. Hence it may be wrong to see the net zero transition as being like a war, but it should be like a war effort.
And now, in the space of one terrifying and tragic week, these discussions have moved from the field of imperfect metaphor and message-testing focus groups to geopolitical reality and national policy frameworks.
Vladimir Putin's brutal and unprovoked invasion on Ukraine has changed everything, and if it can seem facile to discuss economic and energy policies at a time when innocent families are facing unimaginable violence and the world is forced to process the reality of hair-trigger nuclear stand-off, it is still a critical part of the response to Russian aggression.
Even under the absolute best-case scenarios - a swiftly negotiated settlement to the conflict and a change in leadership at the Kremlin - the always questionable idea that Russia was a reliable long-term supplier of energy has been consigned to history. Under the myriad horrific worst-case scenarios, which currently feel the more likely outcome, the moral and strategic need for Europe to end its imports of Russian gas, oil, and coal would become an absolute imperative. If Russia's superior numbers and willingness to engage in war crimes start to turn the course of the war, the already building clamour for the EU to accede to the Ukrainian government's plea for a full embargo on Russian oil and gas will become overwhelming. Equally, if Ukraine's brave resistance leads to a long and bloody war, there is a distinct possibility Putin could make the next move in the economic proxy war and restrict Russian exports in a bid to send energy prices surging higher still and fracture the unity of the Western coalition.
Meanwhile, as yesterday's new report from IEA reiterates the reforms needed to curb fossil fuel imports are precisely the same as those needed to meet climate goals. The stakes may have got even higher and the timeline got more demanding still, but it is much the same strategy that has to be pursued: energy efficiency, clean energy capacity, flexible grids, electric transport and heating, relatively modest consumer behaviour change, and some domestic gas as a bridge fuel. The same armoury is needed for an economic war against Putin as is needed for McKibben's war against climate change.
Consequently, doing everything possible to slash Russian fossil fuel imports to as close to zero as possible has become the ultimate no regrets policy choice. As Barbara Pompili, minister of the ecological transition of France, observed at today's publication of the IEA's new report on how to slash Europe's dependence on Russian gas, "each additional wind turbine and solar panel in Europe is a step forward in the fight for the climate and for our energy independence".
However, what the IEA's traditionally structured 10 point plan and the various Twitter pledges from Energy Ministers across the continent have thus far struggled to capture is the sheer pace and scale of the changes that will be needed to properly end the continent's reliance on Russian oil, gas, and coal.
It is easy to say that we need to accelerate clean energy development, drastically increase the number of energy efficiency upgrades, and convince the public that turning down the thermostat is as helpful as sending clothes to refugees. But to take a meaningful chunk out of Russian imports ahead of next winter would require the relaxation of planning and permitting rules for clean energy projects; huge increases in direct taxpayer funding for energy efficiency programmes; the rapid training of an army of builders, heat pump installers, and electric vehicle technicians; and political leaders brave and skillful enough to convince voters a long way from the actual front lines that they should make some small sacrifices in support of allies who are making the ultimate sacrifice.
How to pay for such an ambitious programme? Well, plummeting clean tech costs means it will not cost as much as many fear and the returns on investment from energy efficiency upgrades in particular will be considerable. Moreover, a lot can be done without huge costs on exchequers through building codes, public information, and cleverly targeted tax breaks. Government could make a lot of progress by dusting off the many clean energy policies it has to date rejected - VAT cuts on clean tech, more funding for energy efficiency programmes, more generous capital allowances for businesses, bigger clean energy auctions - but all these policies would face skills and supply chain constraints, which would likely require government intervention to quickly overcome. Consequently, increased investment will be needed. But if this transformation is like a war effort and that direct funding is required, as it is, then green war bonds and windfall taxes would be as good a place to start as any.
As an initial analysis from European economic think tank Bruegel indicated this week in a report that was notably more ambitious than IEA's vision for cutting Russian imports by a third to a half, Europe could get through next winter without Russian gas, but only if it acts now and is prepared for considerable, but crucially not catastrophic, disruption along the way. "The main message is: if the EU is forced or willing to bear the cost, it should be possible to replace Russian gas already for next winter without economic activity being devastated, people freezing, or electricity supply being disrupted," the report states. "But on the ground, dozens of regulations will have to be revised, usual procedures and operations revisited, a lot of money quickly spent and hard decisions taken. In many cases time will be too short for perfect answers."
Again, what is needed is a war effort.
The big question is whether European governments, including the UK, are willing to spend this money and move sufficiently quickly to make a full end to Russian fossil fuel exports a reality. A combination of deficit hawkism, net zero scepticism, and brutal real politik (perhaps laced with Putin apologism) could yet undermine efforts to drastically transform the European energy landscape. But if the moral and strategic need to stop funding Putin's war machine and the long term need to build a net zero, climate resilience economy does not convince Europe's leaders to take bold action, then perhaps simple political self-interest should.
For one of Putin's strategic goals remains the destabilisation of the West, and regardless of how the Russia-Ukraine War plays out he will see energy prices as the primary economic means for sowing division and rancour. As such, if governments fail to offer a credible path for ending our collective reliance on expensive imported energy and provide a clear plan for enhancing our economic, climate, and national security, then Putin's invasion, the resulting chaos on the energy markets and inevitable refugee crisis will have created the most fertile of electoral territory for the likes of Donald Trump and his populist fellow travellers.
The West has indulged in 15 years of squandered opportunities to reshape an economic and geopolitical system that is demonstrably unfit for 21st century purposes. After the financial crash, Brexit, Trump, and the pandemic - and against a backdrop of an ever-worsening climate crisis, worsening geopolitical tensions, and stalled living standards and even life expectancies in parts of West - governments flirted with the idea of 'building back better'. But each time, despite some discrete successes, they mouthed platitudes and ultimately failed to deliver the step change in real world action that was so desperately needed.
Now we face a brutal war in Europe and credible threats of nuclear annihilation, could leaders finally recognise the urgent need for the bold, full spectrum economic and technological reforms that could simultaneously tackle so many of the challenges the world is facing?
There is an amusing and cutting social media meme, which highlights how in response to a crisis commentators reach for what they know: "this is why event xxx proves how the thing I have always wanted to happen is so important". But still, in all seriousness, this is why the current crisis proves how the thing I have always wanted to happen is so important.
A ten-point plan for reducing reliance on Russian gas is a useful step forward, but it now needs to be translated into ambitious and urgent action. Not a day can afford to be wasted. Done right, an accelerated net zero strategy and full spectrum energy security plan would make us all safer and might even help end an actual war. What is needed is a war effort.
This article first appeared as part of BusinessGreen's Overnight Briefing, which you can sign up for here.
Want to find out more about how the net zero transition will impact your business? You can now sign up to attend the virtual Net Zero Finance Summit, which will take place live and interactive on Tuesday 29 March and will be available on demand for delegates after the event.