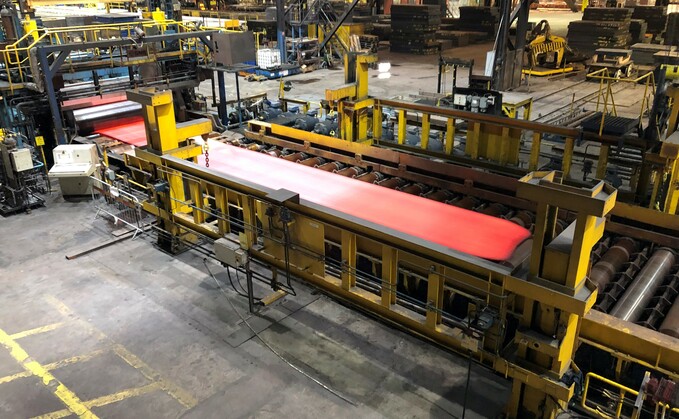 Volvo Cars and steelmaker SSAB outline exciting progress for the fledgling green steel industry at BusinessGreen's Net Zero Festival
The global automotive sector can be a "catalyst" for the decarbonisation of a host of crucial heavy industrial materials, but carmakers and policymakers need to be more vocal in demanding low carbon products across supply chains in order to accelerate the wider market.
That is the view of leading figures from carmaker Volvo Cars, steelmaker SSAB, and green business non-profit The Climate Group, all of whom provided an overview of pioneering efforts currently underway to slash emissions from the production of electric vehicles at BusinessGreen's Net Zero Festival last week.
Volvo Cars, which is owned by Chinese holding firm Zhejiang Geely, is one of a handful of major companies to collaborate with SSAB to develop and deploy fossil fuel-free steel and the company now plans to begin making cars using the zero carbon steel, which utilises green hydrogen and renewable electricity as a replacement energy source for coal, this year.
The collaboration forms a major pillar of the Swedish car brand's drive to become a net zero company by 2040, as part of which it has set its sights on solely producing fully electric vehicles from 2030, for which steel and other materials such as batteries and aluminium are key components.
Volvo Cars' chief procurement officer, Kerstin Enochsson, told BusinessGreen's Net Zero Festival last week that the firm wanted to be a "trailblazer" for decarbonisation across the automotive industry. "Volvo cars recognises it is part of the problem of climate change, and we want to be part of the solution," she said.
As well as ceasing the manufacture of new fossil fuel cars, the firm additionally needs to tackle the climate impact of materials used to make its EVs, if Volvo's net zero ambitions are to be realised, according to Enochsson. Battery production accounts for a major chunk of EV lifecycle emissions, while steel alone accounts for 20 per cent of CO2 in the production of its vehicles, she explained.
"The key focus for us is now to reduce carbon intensive materials - and here we talk about batteries, aluminium, and steel," Enochsson said.
As such, Volvo Cars has itself set a slew of stretching goals for the coming years, including targets to reduce its product lifecycle emissions by 40 per cent and its supply chain emissions by 25 per cent by 2025, both from 2018 levels.
Delivering on its climate goals over the coming decade represents a significant challenge for the firm, underscoring the need for "progressive" policies and partners - such as SSAB - to address these emissions, according to Enochsson.
But she argued the sprawling nature of supply chains and materials needed to produce electric vehicles meant the car industry also had huge potential to drive demand for lower carbon components right across the wider global economy.
"We in the automotive industry are actually touching upon very many different industries, so if we put out very high demands to other industries, we can help - it's a leverage effect - to drive down emissions in many different carbon intensive sectors," Enochsson explained. "And that is what I would call being a catalyst for change, which we are extremely excited to be."
Volvo Cars' work with SSAB offers a case in point for how car companies can help accelerate demand for low carbon products worldwide, she suggested, with the company aiming to begin producing its first vehicles using SSAB's fossil-free steel by the end of this year.
After Volvo Group - which specialises in trucks and other products - became the first customer for green steel produced at the pioneering Swedish HYBRIT steelmaking project - a joint venture between SSAB, energy utility Vattenfall, and iron ore miner LKAB - over the summer, other firms are already following suit.
Hot on the heels of Volvo Group and Volvo Cars, rival carmaker Mercedez-Benz, which is owned by auto giant Daimler, announced its own partnership with SSAB to trial the use of steel from the HYBRIT facility, as part of its ambition to ensure all of its passenger cars are 'carbon neutral' across their value chain by 2039. Another separate partnership with automotive tech firm Faurecia will similarly explore the use of fossil-free steel for manufacturing car seats, according to SSAB.
Also speaking at the event last week was Thomas Hörnfeldt, SSAB's vice president for sustainability and public affairs, who explained the process behind making steel using hydrogen and renewable electricity, rather than coking coal which is typically used in steelmaking worldwide. "What we are doing now is changing a 1,000-year-old way of making steel," he said.
Hörnfeldt said he expected to see growing demand for fossil free steel not just in the automotive sector, but also in industries such as construction, offshore wind, and solar energy, as investor, consumer, regulatory, and market pressures all help drive demand for greener materials.
Definitive standards for what constitutes 'fossil free' steel alongside regulatory and trading agreements to ensure a level playing field and avoid 'carbon leakage' - whereby manufacturers relocate to regions with morelax environmental regulations and ower carbon costs - are needed to help accelerate the market, Hörnfeldt said, but he insisted that green steel production costs would come down.
"Like all new technologies, we foresee a development and a cost reduction over time," he explained. "We know that the cost for traditional steelmaking with associated cost for emissions is going up. We know that renewable and fossil free energy is becoming more readily available, so over time we certainly expect fossil free steel to become commercially competitive."
However, the HYBRIT project remains a small-scale pilot at present, and SSAB does not envisage producing fossil-free steel at a commercial scale at a full-sized factory until 2026. That leaves Volvo Cars and other firms currently exploring the use of green steel with a wait on their hands, presenting challenges in the meantime for their efforts to meet interim Scope 3 supply chain emissions reduction goals.
Enochsson said Volvo Cars was therefore also focusing on expanding the use of renewable energy and scrap - rather than virgin - steel throughout its business and supply chain, but that greater cross industry collaboration and support from policymakers was needed to prime the market for low carbon products and materials such as green steel.
"The more vocal we are around the need for fossil free steel, the more we can make changes across various industries," she said. "The only way to win this race to net zero is to do it in a very collaborative approach. Alone won't work. We need everyone to leave their comfort zone and see how they can push boundaries here."
Indeed, while steel is more or less infinitely recyclable and recycling rates are relatively high, scrap metal still only covers around a quarter of growing global demand for steel, underscoring the need for greener forms of producing the virgin metals.
As such, Jen Carson, senior manager for industry at The Climate Group, said it was "hard to over-emphasise the importance of decarbonising the steel sector", highlighting the need for the metal in producing cars, wind turbines, and solar panels, as well as crucial infrastructure, schools and hospitals.
At present, however, steelmaking emits more carbon than any other heavy industrial manufacturing product, with iron ore and steel together accounting for around seven to eight per cent of total global greenhouse gas emissions.
In order to accelerate decarbonisation of the steelmaking, Carson said a "broad mix of policy solutions" was needed, such as through carbon pricing to stimulate demand, contracts for difference measures to help prime the market for producers, and also incentives to drive demand from buyers of green steel. International boundary efforts to avoid 'carbon leakage' is also crucial, she added.
But businesses also have a major role to play in driving up demand for green steel alongside any supportive action from policymakers, Carson emphasised - particularly through industries such as automotive, shipping, construction, and others setting out clear commitments and targets to embed low carbon steel into their manufacturing.
"It's really important that we see these expectations and criteria loudly and clearly to support companies like SSAB and the wider whole steel supply chain, so that they can trust in this critical mass of demand for these productions," Carson explained. "That will directly accelerate and feed into decisive supportive policy decision-making, stimulate and unlock investment, and also ensure that the enabling infrastructure that surrounds fossil free steel is also in focus because that's quite an important topic."
The Climate Group's 'Steel Zero' initiative, which encourages major companies to make public commitments to procure net zero emission steel by 2050, alongside an interim pledge to ramp up green steel procurement by 2030, is aimed at doing precisely that. To date, the group has secured 11 members, including major companies such as Landsec, Orsted, and Mace Group.
Carson said driving decarbonisation of the steel sector represented an incredibly "complex" task. But, as with her fellow contributors from SSAB and Volvo Group during the Net Zero Festival discussion last week, she too stressed the huge potential for major manufacturers such as Volvo Cars to act as a "catalyst for change" for the global economy.
"We've got a major challenge… but it's a really important, exciting opportunity, because we can substantially address and really deliver against that whole scale 2050 piece by looking at steel," said Carson.
Fossil-free steelmaking is very much in its infancy at present, but with the stage set for growing corporate demand in the coming years, the future for green steel is starting to look very bright indeed.
All of the panel debates, keynote speeches, and presentations from the Net Zero Festival - which took place over three days from 29 September 2021 featuring hundreds of top speakers from business, politics and academia - are now available to watch again on demand by signing up for free on the Net Zero Festival website.