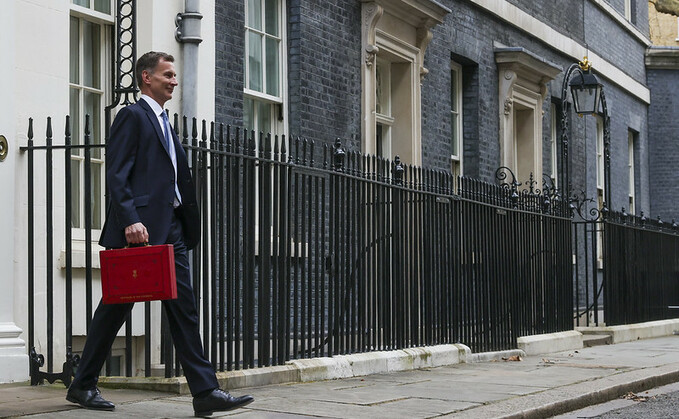 Jeremy Hunt promised action on enterprise, education, employment, and everywhere, but whither environment and energy?
A government looking to make a virtue out of its technocratic tendencies took things to an extreme today with a policy wonk friendly Budget that contained not a single surprise.
From corporation tax reform to childcare benefits and carbon capture funding to extended energy bill support, almost every last one of Jeremy Hunt's Budget announcements had been trailed in the days leading up to his speech. The only major move that was not pre-announced was the extension of the fuel duty freeze, and that is now so predictable it is as much a part of parliamentary tradition as Black Rod, subsidised tearooms, and everyone being referred to as 'honourable', even Boris Johnson. Any metaphorical rabbits remained firmly stuffed in their hats.
The net result is a Budget that will once again leave the green economy and much of the wider business community feeling remarkably underwhelmed.
The Chancellor structured his Budget around the return to "stability" the government had engineered in the wake of the Johnson-Truss interregnum and his four pillars for driving growth in the form of "enterprise", "education", "employment", and, to much amusement, "everywhere". But whither "environment"? What of "energy"?
In fairness to Hunt, he did include a section on the government's energy plans that hymned the success of the UK offshore wind and solar industry and confirmed the pre-announced plans for £20bn of support for carbon capture, usage, and storage (CCUS) projects over a 20 year period and the launch of a new competition to deliver the UK's first small modular reactor project. But somewhat surprisingly the Treasury Budget documents provided little further detail on either front.
Hunt said the CCS funding would support 50,000 jobs and help capture 20 million to 30 million tonnes of CO2 by 2030, which is both a significant range and a huge ask if the funding is not released until the next Parliament. The Treasury said it hoped to announce a shortlist of projects for the first phase of CCUS deployment later this month. But detail on how the funding will be awarded, the pace at which it will be distributed, and how these projects will integrate with wider decarbonisation efforts were not forthcoming.
Similarly, the commitments on nuclear amounted to confirmation of the government's support for Sizewell C (again), the new Great British Nuclear agency (again), and plans for SMRs (again).
More interesting for many businesses' net zero strategies will be the various reforms to the corporation tax regime, which include an extension of the Climate Change Agreement scheme to encourage investment in energy efficiency improvements and wider changes to capital allowances to help incentivise investment in new infrastructure and machinery.
There is potential here for significant tax breaks for businesses that invest in more efficient and cleaner technologies and processes. As Climate Change Committee chief executive Chris Stark noted this afternoon, perhaps the most meaningful move in the Budget was the promise of 100 per cent capital allowances. "Expensing capex should really improve the economics of all sorts of Net Zero projects (typically high capex, followed by opex savings)," he observed.
That said, Hunt's speech also contained a tacit admission that everything else the government has tried to boost business investment in recent years has failed. It remains to be seen if the complex new patchwork of tax breaks can offset the imminent increase in corporation tax and the uptick in business energy costs that is coming down the track given Hunt limited the extension in energy bill to domestic customers.
Elsewhere, there were plans for new investment zones, £40m to make public swimming pools more efficient, confirmation from the Treasury it intends to issue a further of £10bn of green gilts, and the overarching sense that everyone should forget about today's strikes and be really impressed that the UK probably won't now enter a technical recession this year. "Stop declinist talk," Hunt ordered on the same day the Office of Budget Responsibility reported real living standards are expected to fall by a cumulative 5.7 per cent in 2022-23 and 2023-24, the worst contraction in living standards since records began in 1956-57.
For the green economy there was nothing on renewables, planning reforms, offshore wind port infrastructure, electric vehicle manufacturing, charging infrastructure, nature-based solutions, tree-planting, climate resilience, green finance, domestic energy efficiency, green skills, electricity market reform, green trade deals, carbon pricing, heat pumps, flexible grids, or farming subsidy reform. There was, however, confirmation the budget for walking and cycling infrastructure has been cut by two thirds.
For news on all this and more, green businesses and investors will have to wait for yet another few weeks. Bloomberg reported today that the Treasury and the Department of Energy Security and Net Zero are planning a "green day" before the end of the month when they will update the Net Zero Strategy they were ordered by the High Court to improve and respond to Chris Skidmore's Net Zero Review. It sounds as if green businesses will finally get energy and the environment, everywhere all at once.
The good news is that after years of political chaos the grown-ups appear to be back in charge and thanks to the belated wake up call provided by the US Inflation Reduction Act Ministers have properly recognised the centrality of clean tech and climate action to a modern competitive economy. The bad news is that as today's focus on CCS and nuclear inadvertently underscores, the government has spent years now deferring crucial decisions on projects and industries that have always been critical to delivering on its net zero goals, wasting time and undermining the UK's competitiveness in the process. Action to mobilise much needed investment is better late than never, but as President Obama used to say there is such a thing as being too late on climate change.
Hunt may have done a good job of projecting a reliably bland sense of stability, but the sidelining of environmental and energy issues in today's Budget suggests there is still a failure to grasp the urgency of the current moment.