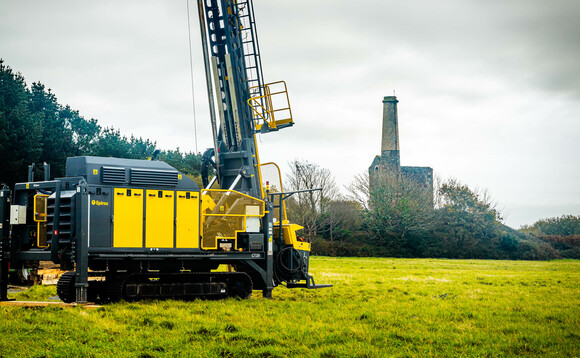 Jeremy Wrathall, CEO of Cornish Lithium, talks BusinessGreen through his vision to ramp up a domestic supply of lithium that could power the UK's net zero transition
Could Europe be poised for a mining and metals renaissance as governments work to accelerate the net zero transition? A flurry of project announcements over the past 18 months seems to suggest so. The continent has the fastest-growing electric vehicle (EV) market in the world, after all, and yet the overwhelming majority of batteries today are made in coal-fired manufacturing plants in China, with lithium commonly extracted from brines in Latin America or hard rock in Australia.
Europe's lithium reserves are significantly more limited and lower grade that those found in major lithium producing countries and regions, and opposition to resource extraction projects remains arguably fiercer and better supported than in other parts of the world. But with lithium prices skyrocketing, the economic case is strengthening for extracting those reserves that do exist across the continent. Moreover, observers have noted there could well be a premium for 'sustainable' lithium produced in line with tighter environmental regulations, amid concerns around the mining sector's significant emissions footprint and patchy human rights record.
With the current gas price crisis currently front of mind, business, investors, and governments are also taking note of the need to develop a stable, domestic supply of minerals and materials that can prove resilient to geopolitical risks and supply chain disruption as the net zero transition progresses. As such, the UK and EU have taken steps to proactively support mining companies that could help countries claw back some of the battery supply chain from China. A raw materials strategy published by the European Commission in September 2020, for example, forecast the EU would need 18 times as much lithium in 2030 to meet demand from EVs and energy storage, and noted there were "interesting opportunities" in the development of a range of battery raw materials across the bloc, including lithium and cobalt, alongside efforts to significantly ramp up metals recycling capacity across the continent.
In Germany, Vulcan Energy Resources has signed deals with Renault, Volkswagen, Stellantis, and LG Energy Solutions for lithium it plans to extract from geothermal waters that churn under the Upper Rhine Valley. It is expecting to start commercial production of the raw material by 2024 - the same year that Finnish company Keliber expects to start exploiting lithium-rich ore at its hard rock operation in western Finland. And in the UK, there has been a rush of prospecting activity in Cornwall, with two companies in a race to find ways to economically extract lithium found in the granite that forms much of the county's backbone.
One of those firms is Cornish Lithium, a company headquartered in Penryn that is engaged in both hard rock mining and extraction of raw materials from geothermal water. The company has secured £18m of private investment to step up its activities on both fronts, and is hoping to start commercial extraction at its hard rock project by 2025/2026. Just last week, the firm celebrated the construction of one of two pilot plants it is building in Cornwall.
Jeremy Wrathall, CEO and founder at the company, tells BusinessGreen he believes the UK has significant potential to become a major lithium player within Europe, thanks to string of conditions unique to Cornwall. Not only does the South West county have abundant lithium deposits, but the county's rich mining heritage and the recent downturn in the China clay industry means there is a healthy public appetite for mineral extraction, he notes. "Cornwall has always been a mining county," he says. "It was once a metal mining county, and it still is a China clay mining county. Mining is part of the Cornish landscape."
That said, opposition to new development projects should not be underestimated. Lithium extraction projects across Europe are already facing pushback from communities concerned about their long-term environmental impact and damage to landscapes. Earlier this year, regulators in Serbia ordered mining giant Rio Tinto to put the brakes on plans to develop the world's largest greenfield lithium project after the scheme faced significant opposition from locals. And in Western Spain, miner Infinity Lithium's plans for an open-pit hard rock mine were similarly derailed by local opposition, with the project developer now planning an underground operation which would produce less waste and leave no visible impacts on the landscape.
Wrathall is quick to stress that Cornish Lithium is first and foremost a mineral extraction company, not a traditional mining firm, noting that the production methods it plans to scale have just a fraction of the environmental footprint of traditional lithium mining operations. The company is yet to receive a complaint from locals over its plans, he notes.
At the site of an old China clay processing pit near St Austell, the company is trialling a technique that uses water to extract lithium micas from granite rock, using technology licensed from an Australian firm that sidesteps the need to 'roast' ore at high temperatures using fossil fuels. Meanwhile, in Redruth the firm has drilled a number of two-kilometre-deep boreholes to draw lithium-enriched water to the surface, where the mineral will be extracted from the subterranean water at a pilot plant without the need for large evaporation ponds typically used in South American lithium mining. Both projects are expected to be powered with zero emissions by harnessing the region's geothermal heat resources.
"If we are going to keep our automotive industry and keep people employed, we are going to have to source raw materials here instead of shipping them all from China, where they are definitely processed using fossil fuels," Wrathall says. "The Chinese way of lithium production is to roast [ore] with gas or coal… We are trying to do it in an environmentally friendly way. Our hard rock quarrying operation has already been scarred by the China clay industry; we are not doing any more damage."
Commercial production in St Austell is expected to start in 2025/2026, and Wrathall says the company expects to extract between 5,000 and 10,000 tonnes of lithium carbonate equivalent (LCE) from the open pit site annually. For context, in 2017 the Faraday Institute projected the UK demand for lithium would exceed 59,000 LCE tonnes by 2035 - although Wrathall cautions this figure is conservative and "hopelessly out of date".
Wrathall stresses that Cornish Lithium will be leaning heavily on the former clay pit operation's infrastructure to keep emissions and costs down. "If you are building a mine from scratch, you need railways, power, water and electricity," he says. "Our hard rock site has all those things; the infrastructure is already there."
The timeline and lithium production capacity of Cornish Lithium's brine operation is less easy to ascertain at this stage, he says, but he notes the approach is highly scalable given the fractures where geothermal water collects criss-cross Cornwall's bedrock. "There is a lot of lithium under Cornwall, but where it is in economic quantities is what we are trying to find out," he says. "The question is, how much can we actually extract?"
Moreover, the soaring price of fossil gas means the shallow wells Cornish Lithium is drilling to draw up lithium-enriched waters have opened up a significant new revenue stream for the business. The company is hoping to pipe heat from geothermal water to local businesses, such as breweries and dairies, that are now looking to reduce their reliance on expensive fossil gas for their industrial processes, as well as to district heating schemes that deliver low-carbon heating to clusters of homes.
Wrathall notes the sale of this heat may end up being as central to Cornish Lithium's business model as the lithium extraction process, given that energy bills could stay at high levels for the foreseeable future. "It has suddenly become very apparent we have the opportunity to produce heat, which is valuable now, and carbon-free heat at that," he says. "Meanwhile, that same water contains lithium which we now know how to extract. It really been a voyage of discovery… It was great to have two horses in the race, and we have three now: brine extraction, heat, and hard rock lithium."
It is clearly a grand vision, and one that has won over both government and private investors. Last year, Cornish Lithium announced it had clinched a "transformational investment package" of up to £18m from specialist technology metals investor TechMet to step up its activities. The funds are expected to go towards both the brine and hard rock operations, with half the funds set to be unlocked later this year when scoping study assessing the feasibility of extraction at the hard rock project is completed. The company has also secured backing from the UK government, winning a share of a £9.4m investment round in battery and electric vehicle (EV) technology that was announced last March.
But unlike Vulcan Energy Resources in Germany, Cornish Lithium is yet to formally announce any off-takers for its lithium. Wrathall does not name names, but confirms the company wants to produce material for the UK market. "We very much want to produce lithium that stays in the UK, for UK industry," he says, adding that the expansion of domestic battery producers could provide an important market.
And while insisting that Cornish Lithium's business plan is not predicated on customers paying more for low-emission, domestically produced lithium, Wrathall says he is confident that lithium produced to high environmental standards will enjoy higher prices.
"My business case is not built on getting a premium," he says. "But everyone who drives a BMW or Tesla is going to want to know, where did this lithium, cobalt, manganese, come from - was it shipped all the way from China? There will be a premium, but I'm not going to rely on it."
With the price of lithium continuing to rocket, it is clear that even producing small quantities of lithium at market prices could be a potentially lucrative venture for Cornish Lithium and its Cornwall-based rival, British Lithium.
The UK is set to publish a critical minerals strategy this year setting out how it intends to deliver a more secure supply of battery materials as the net zero transition gathers pace. But documents from the government-backed Critical Minerals Expert Committee leaked to Sky News recently revealed that the businesses and organisations that form the group expect UK lithium demand to grow from 1,500 tonnes today to around 60,000 by 2030 on the basis of current plans for a wave of 'gigafactories', such as the plant being plotted by Britishvolt in Northumberland. Lithium demand should rise to 140,000 tonnes if the UK increases its battery manufacturing capacity in line with recommendations from analysts, according to the documents.
As such, Wrathall urges the government to continue to support the UK's nascent lithium mining sector by taking actions that fast-track planning for projects, for instance by providing more resources to agencies responsible for approving schemes. "If we don't move quickly, we are going to be left behind," he warns.
He also highlights how there is potential to transfer resources, knowledge, and finance from the oil and gas industry into the UK's growing metals industry. "The amount of money that goes into oil and gas - offshore oil rigs cost millions and millions of pounds and are hugely complex," he says. "All that knowledge, planning and money has to transfer into critical raw materials and metals, which are going to facilitate the technologies of tomorrow."
It remains to be seen how Cornish Lithuim's vision will play out, but it is undeniable that the UK's lithium reserves should prove an increasingly hot property for investors, car makers, and government as the race to exploit the world's reserves of lithium revs up. Cornwall's proud mining heritage could yet find a new lease of life in the 21st century.