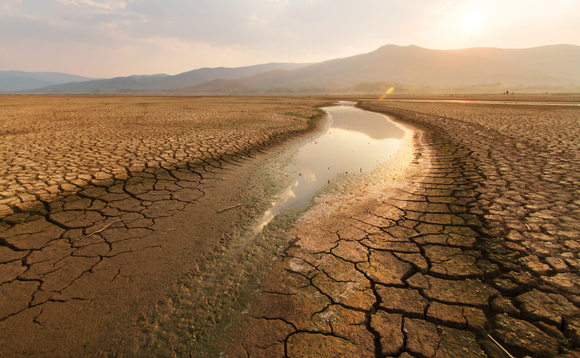 The WMO's warning that the 1.5C warming threshold is set to be breached - at least temporarily - hits hard, but the lessons it contains should be obvious by now
Yesterday's news from the WMO that the world is highly likely to experience 1.5C of warming inside the next five years hits like a storm surge. It may have been coming for over a decade now, but the implications that flow from missing the target that lies at the heart of the Paris Agreement are almost too bleak to countenance. Having strived to keep 1.5C alive what do you do when it is dead? Debate whether it was killed by murder or manslaughter?
The WMO's report will now be accompanied by lots of caveats about how the spike in temperatures are being driven in part by a El Nino cycle and as such one year when the 1.5C threshold is surpassed does not mean that average temperatures have permanently breached the target. The best estimates remain that on current emissions trends 1.5C will not be properly passed until some point in the mid-2030s. 1.5C is not quite dead yet.
However, these academic caveats and the wider debate around What It All Means to surpass the 1.5C goal risk missing the point.
Exceeding 1.5C of warming changes everything and nothing. It escalates climate impacts, amplifies the risk of runaway warming, and changes landscapes. But the mission remains the same: to cut greenhouse gas emissions as fast as possible, while ramping up investment in measures that can enhance the climate resilience of our infrastructure, food systems, and societies, as well as carbon removal projects that can draw CO2 down from the atmosphere.
As such, there are only three things that matter about the looming proximity of the 1.5C threshold.
First we have to cut emissions faster - a lot faster. It remains insane that we are not throwing everything at the projects and technologies that we know can slash emissions while saving us money and boosting living standards.
Yesterday, as the WMO issued its warning, the ribbon was being cut on a new Sainsbury's supermarket in Hampshire. The contrast between warnings of climate apocalypse and a suburban superstore is acute, but here is a store that apparently uses half the energy of a standard supermarket. None of the technologies deployed to deliver such huge savings are particularly cutting edge - there are solar panels on the roofs, doors on the fridges, and green heating systems in the aisles. But rolled out in conjunction they have slashed energy use and destroyed a sizeable chunk of fossil fuel demand. It is self-evident that this has to happen to everything, everywhere, all at once.
Second, we need to get much more serious about climate resilience. Again, completely coincidentally, yesterday's WMO report came on the same day as the Environment Agency confirmed new climate modelling had shown it needs to pull forward its plans to tackle tidal flooding risk along the Thames. Climate adaptation is going to be hugely expensive, but it becomes more expensive the longer we try to ignore it. Every community, every farm, every bit of infrastructure, every building needs to consider how it will cope with escalating climate impacts. The most vulnerable countries need the assistance they are due so that they can undertake this critical work. The long term planning horizons the Environment Agency is working on will need to become the norm. They are getting shorter all the time.
Finally, the seemingly endless debates about carbon removals will need to be resolved. Concerns about the nascent industry's intentions and efficacy are understandable, but it's clearer than ever there is no path to stabilising the climate at sub 1.5C of warming that does not involve climate removals in some form. Whether it involves trees, peat, seaweed, rocks or carbon capture we are going to have to get good at it. We better get started.
All this is obvious. The reasons why none of it is happening at anything like the pace and scale that is required are much less so.