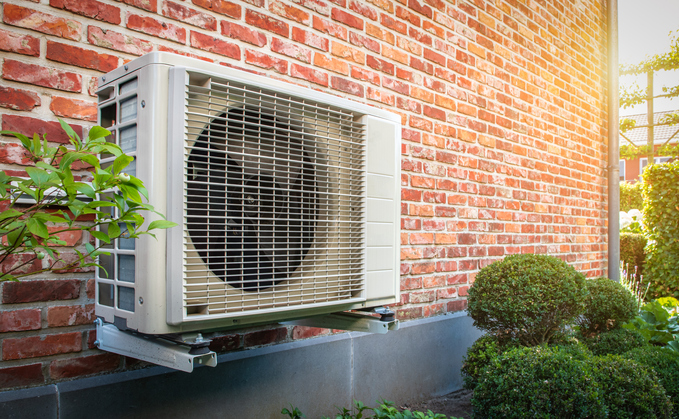 Average efficiency from domestic air-source heat pumps outperforming government benchmarks, new real world data from Good Energy finds
Green energy supplier Good Energy has today released a new analysis revealing how its air source heat pumps are outstripping industry standards and delivering a level of efficiency that is more than four times higher than a typical gas combi-boiler system.
According to the latest figures, the average efficiency achieved by heat pumps installed by Good Energy in customers' homes hit 340 per cent over the last year - meaning for every unit of energy going into the heat pump, 3.4 units are generated as heat output.
This is 4.1 times more efficient than a typical gas boilers, which average just 82 per cent efficiency according to government figures, and 3.7 times more efficient than the 92 per cent figure most efficient modern A-rated boilers are advertised as being able to achieve.
Moreover, Good Energy performance data gathered from a range of detached, semi-detached, and terraced houses that were up to 100 years old, exceeded figures from a recent government funded heat pump performance analysis by the Energy Systems Catapult, which revealed in an interim report that the heat pumps in its trial were delivering an equivalent efficiency of 290 per cent on average across all seasons.
Good Energy claims the levels of performance it is seeing would make a heat pump nearly £150 cheaper to run a year for a typical home requiring 11,500kWh of heat under the current energy price cap.
Nigel Pocklington, CEO of Good Energy, said the firm's latest data validates the notion that heat pumps can beat a gas boiler's efficiency "hands down" in all kinds of property.
"Thanks to this efficiency, despite the unfavourable pricing of electricity compared to gas, largely due to policy costs rather than real world prices, customers can still cut their running costs as well as their carbon with a heat pump," he said.
"Imagine the savings customers will make when cheap renewable power becomes abundant and electricity prices fall, or if energy bills are rebalanced so electricity is not unfairly burdened with policy costs. Gas will no longer stand a chance."
The findings echo the Energy Systems Catapult study, which previously concluded that heat pumps were technically feasible in all types of properties across the UK.
The results will also further fuel calls for the government to adopt long-standing proposals for energy market reforms that would ensure electricity prices are no longer set by the price of fossil gas. Energy industry insiders and environmental campaigners have argued that if the government moves green levies on energy bills from electricity to gas and pushes through wider reforms to allow households and businesses to better take advantage of lower cost renewables, then heat pumps would quickly become more competitive than gas boilers.
Good Energy's updat also comes amid growing concerns over the government's ability to hit a target of 600,000 new heat pump installations every year from 2028, given just 60,000 units were installed in the UK last year - making it one of Europe's slowest adopters of the technology.
In contrast, a recent analysis from the European Heat Pump Association (EPHA) found that European countries are expected to deploy around 43.2 million heat pumps by the end of the decade, providing low carbon heating systems to around half the continent's buildings.
Want to understand what is going on at the cutting edge of sustainability? Check out BusinessGreen Intelligence - the premier information for professionals focused on the UK's green economy