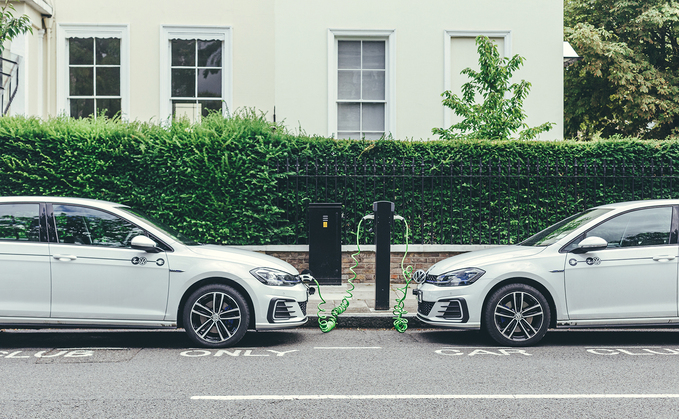 Trade body ChargeUK calls on Prime Minister not to water down zero emission vehicle targets, as reports suggest policy could be reviewed
The government is being urged to "stand firm" in the face of calls to delay or dilute its planned Zero Emission Vehicle (ZEV) mandate, amidst warning any weakening of the policy could undermine investment in the transition to electric vehicles (EVs).
ChargeUK, the trade body that represents the fast-expanding EV charging industry, today wrote to Prime Minister Rishi Sunak to warn that "watering down the original ambitions of the ZEV mandate will mean billions of pounds of investment, thousands of new and green jobs and the supply of second hand EVs are put at risk".
The ZEV mandate is scheduled to come into effect from next year, requiring manufacturers to sell a proportion of zero emission models that will rise year-on-year through to 2030, when sales of new internal combustion engine cars and vans are scheduled to be banned.
Manufacturers will be required to ensure at least 22 per cent of new car sales in the UK next year are emissions-free models, rising each year to reach 80 per cent by 2030. Manufacturers will face fines of £15,000 for every non ZEV-model sold over the limit, unless it purchases allowances from companies that have exceeded their target.
Advocates of the mandate maintain that it has helped trigger huge investment in EV manufacturing capacity and that the targets are achievable, especially given that battery EVs already account for around 17 per cent of the market.
However, some manufacturers have warned they will struggle to meet the target and could face crippling costs as a result.
Recent reports suggested the government could yet review the target following lobbying from a number of manufacturers. A spokesperson for Business Secretary Kemi Badenoch told Politico: "If major car companies employing thousands of people are saying that there's a problem, then it's her job to look at ways to ease that problem."
Meanwhile, the Sun newspaper yesterday launched a new campaign under the banner 'Give us a Brake' which calls for the government to scrap the ZEV mandate, delay the 2030 date for ending the sale of new internal combustion engine cars, and continue the fuel duty freeze that has been in place for 11 years.
The campaign comes after a week in which the government has moved to delay, dilute or review a raft of green policies, as it seeks to draw clearer dividing lines with Labour on environmental issues. In recent days Ministers have delayed new rules to tackle packaging waste, moved to lower the price of carbon in the UK Emissions Trading Scheme, announced a review of Low Traffic Neighbourhoods and 20mph speed limits, hinted at further delays to energy efficiency standards for rented properties, and promoted plans to approve new oil and gas drilling projects.
However, Sunak has said the government has no intention of ditching the 2030 target date, with Number 10 arguing that the policy has been critical for securing investment in EV auto manufacturing and supply chains.
ChargeUK today warned any move to water down the ZEV mandate would make it much harder to meet the flagship 2030 target date for ending the sale of internal combustion engine vehicles and would also jeopardise the UK's wider emissions goals.
"We know that the transition to ZEVs won't take place overnight, so a strong mandate is equally important to securing the UK's path towards a commercially sustainable automotive sector," the letter states. "Our members fully support the government in this transition. That is why our members are investing over £6bn to 2030 to roll out EV infrastructure in all parts of the UK at an unprecedented rate, creating new and sustainable jobs, supporting the switch to EVs and reducing emissions. In little over a decade, the UK's charging sector has grown from nothing to a multi-billion-pound industry and a globally renowned British export.
The letter added that such investment had only been possible thanks to the government's commitment to the transition to EVs, but it warned that "to go further and faster our sector now needs certainty in the form of a firm commitment to a strong ZEV mandate".
"We urge you to stand firm to the ZEV mandate," it said. "It is imperative for industry and for consumers. We have an opportunity to be a world leader in the global transition to net zero, whilst creating jobs and driving down costs for people here in the UK - that is an opportunity that must be seized."
The Society of Motor Manufacturers and Traders (SMMT), which represents the wider auto industry, has also signalled its support for the ZEV mandate, while repeatedly calling on government to accompany the policy with increased financial support to help accelerate the roll out of charging networks and incentivise uptake of EVs.
"Car manufacturers are investing billions in electric vehicles to deliver choice for consumers and drive uptake," said SMMT chief executive Mike Hawes. "There are differing strategies by brand, however, so any Zero Emission Mandate must be reflective of every manufacturer's approach, including those who produce in the UK. The flexibilities proposed by government should facilitate delivery, not add further cost or complexity nor lead to unfair market distortion. Accelerated market transformation is proven to work fastest when mandates are matched with generous incentives and, for automotive electrification, there is also a need for commensurate and binding targets on infrastructure delivery."
Meanwhile, Andy Eastlake, chief executive at the Zemo Partnership, also called on the government to stick with its current plans for the ZEV mandate. "Industry needs certainty and a clear signal of future direction," he said. "The phase-out dates for ICE vehicles and ZEV mandate must be held to give industry and users confidence and clarity of policy in order to make the necessary investments. Zero emission vehicles are - and must be - the future. We need to accelerate towards that future, not put the brakes on just as momentum is clearly building towards the targets."
A government spokesperson said: "We remain committed to phasing out the purchase of new petrol and diesel cars by 2030 - providing certainty to industry and helping UK car manufacturers invest in the future. We continue to engage closely with industry on the transition."
But Louise Haigh, Labour's Shadow Transport Secretary, accused the government of undermining investment by failing to provide clarity on the future of the ZEV mandate.
"The real threat to investment in our automotive industry is chaos created by Kemi Badenoch and her colleagues at a time when the sector is crying out for certainty," she said. "The transition to electric vehicles is essential to net zero, essential to economic growth, and essential to the future of our automotive industry.
"The Conservatives might be happy to delay and let our car industry stall, but Labour would back the sector all the way, with our plan to deliver 80,000 jobs and £30bn in growth by turbocharging the switch to electric vehicles."
Keep up to date with all the latest green business news by signing up to the free Daily and Weekly BusinessGreen Newsletters.