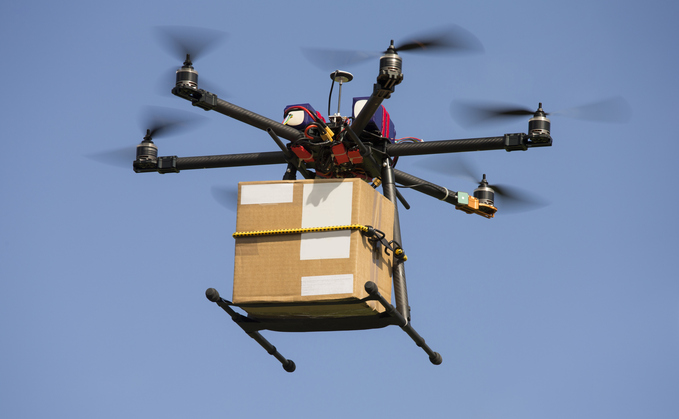 Royal Mail and Skyports Drone Services unveil low carbon drone delivery service between the Orkney Islands
Skyports Drone Services and Royal Mail have this week launched a drone-based mail delivery service between the Orkney Islands, which promises to slash the carbon emissions associated with deliveries to remote locations.
During a three-month trial period, mail will be transported from Royal Mail's Kirkwall delivery office to Stromness, from where Skyports will deliver letters and packages weighing up to 6kg to Royal Mail staff on Graemsay and Hoy. Postal workers will then carry out their usual delivery routes.
The project has been backed by £150,000 of funding from the Department for Transport's Freight Innovation Fund, which is being delivered through the Connected Places Catapult.
Hailed as the first UK drone delivery project that can be conducted on a permanent basis under existing regulatory frameworks, the new service builds upon the Orkney I-Port project which has previously seen Skyports and Royal Mail work with Orkney Council Harbour Authority and Loganair.
Brazilian drone manufacturer Speedbird Aero will also provide its DLV-2 aircraft for Skyports and Royal Mail's inter-island delivery scheme.
Boasting a range of up to 16km, the DLV-2 has been selected due to its ability to fly in weather conditions that exceed the upper limits of the Orkney inter-island ferry, which faces frequent disruption during poor weather due to the challenges of docking safely.
According to project partners, the unique landscape of Orkney and the close grouping of nearby islands allows drone flights to be conducted using extended visual line of sight permissions rather than beyond visual line of sight permissions.
Should it prove effective, the Orkney I-Port operation could be continued on a permanent basis, providing the islands with more reliable and lower emission deliveries.
Alex Brown, director of Skyports Drone Services, said that by leveraging drone technology, the firm and Royal Mail are revolutionising mail services in remote communities, providing more efficient and timely delivery, and helping to reduce the requirement for emissions-generating vehicles.
"We're pleased to once again be partnering with Royal Mail to demonstrate how drone operations can benefit UK logistics on this project," he said. "The I-Port project also marks an exciting milestone as it is the first operation we are completing with aircraft partner Speedbird."
Chris Paxton, head of drone trials at Royal Mail, said the fully electric aircraft would further reduce the company's carbon footprint, 13 per cent of which stems from final mile deliveries despite 85,000 workers covering up to a billion steps a day.
Plans for a Royal Mail drone delivery service were first detailed last year, with the firm saying it ultimately hoped to launch the technology across UK.
Keep up to date with all the latest green business news by signing up to the free Daily and Weekly BusinessGreen Newsletters.