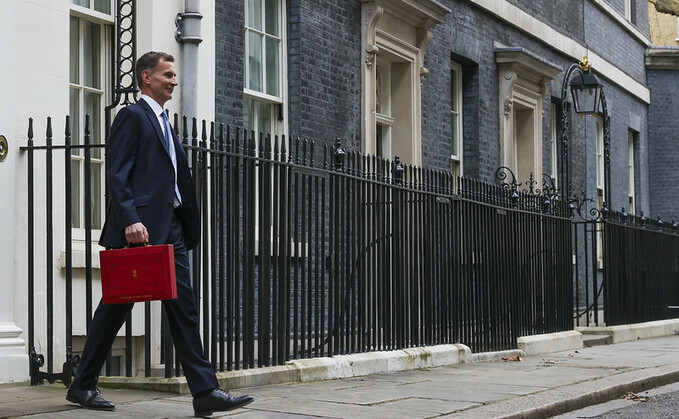 Yesterday's 'Green Day' package offered the good, the bad, and the ugly of the UK's climate policy programme
It was way back in 2010 that the outgoing Labour Treasury Minister Liam Byrne wrote his infamous letter declaring that "I'm afraid there is no money". At some point in the next 18 months, the Tories will no doubt attempt to weaponise Byrne's misplaced attempt at jocularity at a fourth consecutive election. The problem is that it is Chancellor Jeremy Hunt who should be writing the self-same letter and addressing it to those many businesses and investors who want to both secure the UK's long term economic competitiveness and deliver on its net zero targets.
Yesterday's sweeping package of 'Green Day' announcements is hamstrung throughout by the Treasury's refusal to shift the spending envelope by one iota and Hunt's bizarre insistence that he cannot deliver a bolder response to the US Inflation Reduction Act and EU Net Zero Industry Act until the autumn.
The sad reality is that over a decade of austerity economics, external shocks, and entirely self-imposed financial calamities has left the UK in such straitened circumstances it now struggles to make the investments that are so urgently needed in the industries and infrastructure that will dominate the 21st century. The Tories have been so obsessed with protecting future generations from the burden of debt they have instead bequeathed them flat-lining productivity, a degraded public sphere, an increasingly uncompetitive economy, and a worsening climate crisis. And because of that full spectrum economic mismanagement they didn't fully deal with the deficit either.
The net result is a revamped net zero and energy security strategy that is at risk of adding up to less than the sum of its parts.
By the government's own admission the new plans do not yet put the UK on track to meet its legally binding carbon targets for the 2030s, which means there is a very high likelihood the strategy could find itself back in front of the High Court in short order. Ministers insist policies in the pipeline can close the emissions gap and ensure the UK's medium term emissions targets are met, but that begs the question as to why the necessary policies are still in the pipeline and have not been confirmed?
That is not to say there is not good news here. In fact, on multiple fronts ministers and officials have done a remarkably good job within the financial and political constraints placed upon them.
Sunak and whoever it was within Number 10 who hated the idea of 'Green Day' were obviously convinced to scrap the wilfully provocative plan to unveil the whole thing in front of an oil industry audience. Meanwhile, the sweeping new package contains many positive measures that will help to mobilise increased investment in crucial new green industries.
Most notably, the policy regime for new carbon capture and storage (CCS) and hydrogen projects may still be some way from being finalised, but both sectors have taken a sizeable step forward. Environmental campaigners are understandably and justifiably wary of the way CCS and hydrogen is used by oil and gas companies to justify new exploration, but it is almost inconceivable that heavy industry can be decarbonised without both technologies. And if the UK cannot provide CCS and hydrogen infrastructure its remaining steel, chemicals, glass, and fertiliser manufacturers will migrate to regions that can deliver the green fuels and carbon capture capacity they need to decarbonise. That is one of the main reasons the US and EU are currently pumping so much investment into these crucial decarbonisation enabling sectors.
The new funding mechanisms may still not be being worked on, but today's announcements confirm there is a path by which the UK could deliver three or four world leading low carbon industrial hubs over the coming decade. A lot of investment should start to flow from here.
Similarly, the proposals for a zero emission vehicle (ZEV) mandate and sustainable aviation fuel (SAF) mandate may only be at the consultation stage, but they hold out the prospect of the UK having a more ambitious policy framework than the EU for these two crucial industries.
The new support for floating offshore wind projects, nuclear projects, grid upgrades, and heat pumps, accompanied by some interesting new proposals for tackling the growing green skills gap, all point to how the UK really could boast a near zero emission power grid within a decade. Again, billions of pounds of crucial investment is set to be unleashed.
That investment should be further boosted by a beefed up Green Finance Strategy, which will serve to further advance London's position as one of the world's leading hubs for green financial services. Add in a consultation on a carbon border adjustment mechanism and the announcements provide plenty of causes for celebration among green business leaders and investors.
And yet, it is hard to escape the impression that the government's overarching ambition is still badly wanting.
Sunak may have decided against flying to Aberdeen to unveil his new Energy Security Strategy, but nor did he stage a press conference in front of a wind farm to explain that here is the UK's only path to economic recovery following a decade of stagnation.
It was good to see the government commit to extending the Boiler Upgrade Scheme and pushing through reforms to accelerate the heat pump roll out, but the rebadging of the ECO+ scheme as the Great British Insulation drive will still only help 300,000 homes when over 20 million urgently need upgrading. The level of support is an order of magnitude too small. Chris Skidmore's recommendation that the date for phasing out gas boilers should be pulled forward was politely ducked. There was still no news on the proposals for tighter energy efficiency standards for rented properties. And the decision on whether to lift the absurd de facto ban on new onshore wind farms was deferred yet again.
Meanwhile, there was next to nothing new on nature, agriculture, food and diets, waste and recycling, public transport, or active travel. There was little on carbon removals and nothing on how to wind down fossil fuel production. There was no new thinking on how to cope with dwindling fuel duty receipts. All the difficult stuff remained firmly in the 'too difficult box'.
It is worth noting that yesterday's announcements amount to the second Energy Security Strategy inside a year and the second Net Zero Strategy inside two years. In between, former Prime Minister Boris Chancellor and his then Chancellor Rishi Sunak promised a "Rooseveltian" green stimulus package, which simply failed to materialise. Today's announcements and the inclusion of countless policies and proposals that everyone knows have been in the pipeline for years amount to an enormous tacit admission of failure. Why were necessary decisions not delivered sooner? Why does the strategy still not deliver sufficient emissions reductions to meet the government's legal and moral obligations? The necessary pace and urgency have simply not been there.
There were a lot of good and encouraging new measures to be found in yesterday's announcements, which should drive a new phase of green investment and decarbonisation across the UK economy. The green economy will continue to prosper on multiple fronts. But the harsh truth is that without a strategy that is more ambitious still the UK will remain at serious risk of watching too many of the technologies and investments that will define the 21st century happening elsewhere. If that does happen, economic and geopolitical decline awaits.
It is highly possible, arguably even probable, that the government will have to go through this exercise yet again before the next election, as pressure from the courts intensifies and Ministers look to finalise the latest round of consultations they have just set in train.
Or failing that, whoever forms the next government will have to almost immediately revamp this strategy once more and actually deliver both the projects the government has advanced today and the many crucial reforms it has deferred. If there is a letter awaiting them declaring that "I'm afraid there is no money", they will have to find a way to find some.
A version of this article first appeared as part of BusinessGreen's Overnight Briefing email, which is available to all BusinessGreen Members.