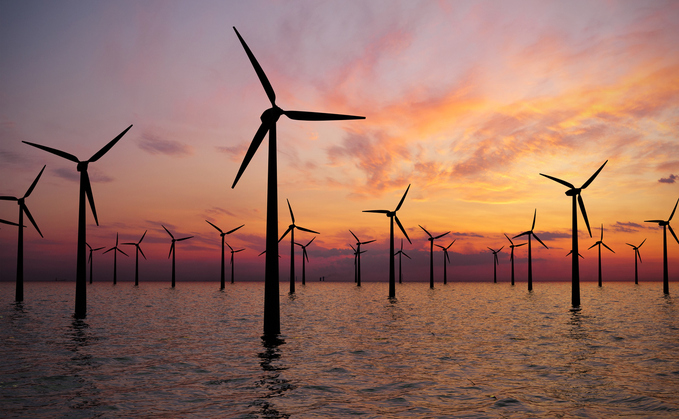 The ONS has reported that the Low Carbon and Renewable Energy Economy grew over 30 per cent in 2021 - no other part of the economy even comes close
It might not always feel like it, but the green economy is booming. No less an authority than the Office for National Statistics (ONS) yesterday underscored the scale of the sector's success, with new data for 2021 revealing how the Low Carbon and Renewable Energy Economy (LCREE) saw revenues soar by more than 30 per cent to £54.4bn. Employment rose by 16 per cent to almost 250,000 full time employees. Part of this growth can be attributed to the post-covid recovery following 2020's year of lockdowns, but much of it was down to surging green investment. UK GDP in 2021 rose by just 7.5 per cent, which suggests green industries grew four times faster than the rest of the economy.
It is also worth noting the ONS's LCREE figures are almost certainly an underestimate. They are based on extrapolations from survey responses and are focused, as the name for the dataset suggests, on the energy sector. That takes in associated fields like electric vehicles, energy efficiency, and services, but there are large chunks of what you could reasonably term the green economy that is not covered by these figures.
Whatever way you cut it green industries are growing fast and are poised to accelerate further. Green businesses are now massive employers and expanding all the time. This is arguably the only economic success story of the age.
There are two ways to look at this data, depending on your stance on glass/water quantity conundrums.
One perspective that has been getting a lot of air time of late is that a LCREE worth just over £50bn is indicative of government failure. As the think tank IPPR noted, despite 2021's stellar performance the growth of the sector since 2015 has actually been pretty "unspectacular". According to the ONS's own figures, employment in LCREE industries has only grown by five per cent since 2014. In many key parts of the green economy, such as energy efficiency upgrades or solar installation, employment is still yet to recover to the pre-2015 that were demolished by David Cameron's decision to axe subsidy and grant programmes.
Green economy veterans looking at the ONS's latest data will be struck by both a wistful sense of what might have been and a foreboding fear the UK is about to lose out to more proactive industrial strategies from the EU and the US just as the net zero transition starts to motor.
However, while such fears are entirely justified there is another narrative on offer. Despite inconsistent policy support, fierce media criticism, and appalling economic headwinds, the UK green economy is still growing at over 30 per cent a year and creating tens of thousands of well paid and rewarding jobs. What other sector has offered anything like that during this decade of anaemic economic growth and flat-lining wages? Are there any other success stories out there? Any at all?
Moreover, this success is starting to manifest itself in ever more visible ways that serve to promote and normalise the grand net zero transition that is already well underway.
Yesterday alone we reported on the revival of the solar rooftop and heat pump industries, a project to harness captured carbon to produce green shipping fuels, a trial to harvest seaweed from an offshore wind farm, the launch of a new coalition of venture capital clean tech investors, surging investment in the cultivated meat sector, and even an electric zero emission cement mixer.
All these projects and many more like them serve to fuel a gathering sense of inevitability around the future growth prospects of the green economy. As a separate report stressed this week, global emissions are likely to peak from 2025 and from that point onwards we're on the downward slope towards net zero. Once fossil fuel demand peaks the investment equations for all future projects shift, clean energy becomes the default choice. Which industry would you want to work for? Where would you like to see your pension invested for the long term? Isn't it obvious?
Whether it is technologies that were said to be impossible, sectors that were said to be uninterested in decarbonisation, or industries that were termed 'hard to abate', the green economy is tearing down barriers on every front. Momentum is being maintained, despite the bleakest of economic outlooks. Is it any wonder that both Rishi Sunak and Keir Starmer wanted to meet Bill Gates this week to talk clean tech innovation and investment? The realisation this is the only economic growth story in town is belatedly dawning.
And yet, somewhat bizarrely, this success is met with a decidedly muted response. The government does not want to make too much of it for fear of antagonising its climate sceptic right wing on one flank and the vast swathes of the electorate who regard its wider economic mismanagement as a disaster on the other. Labour does not want to give the government too much credit for the one part of the economy that could be said to be performing well. The media and its opinion formers are still too often wedded to the outdated idea that anything to do with climate change is a niche issue.
Meanwhile, the green businesses and environmental campaigners that would trumpet the green economy's success are also those most likely to be painfully aware of how the welcome progress that has been made is still catastrophically inadequate. It is hard to crack open the champagne when you are scared for the future of the universe's only known habitable biosphere.
However, there is huge value in highlighting how successful the green economy has become, if only to help encourage more people to get involved. Few investors, politicians, and employees want to join a mission that is doomed to failure. But an industry that provides near guaranteed growth, attractive rewards, and a sense of achievement? That's a compelling prospectus.
It has, of course, come two decades later than it should have and is still being opposed by a noxious mix of incompetence, short termism, and reactionary nihilism. But the ONS is right. The green economy is booming. That simple objective fact deserves to be celebrated.
A version of this article first appeared as part of BusinessGreen's Overnight Briefing email, which is available to all BusinessGreen Members.
If you want to help celebrate the green economy join us at the UK Green Business Awards this June.