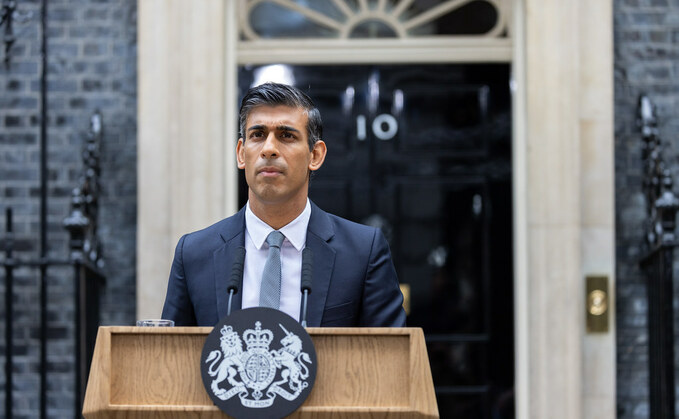 The government's mooted policy changes will damage, but not derail the net zero transition - but Sunak's political cynicism threatens to burn down something precious
I must admit, I didn't think they would do it. After a summer of whispers about Number 10's wavering commitment to climate action, I assumed the recent government funding for new electric vehicle and green steel plants meant the national economic interest had won out. Sure, there would be some political dividing lines of air quality rules and wind farm planning reforms, but ultimately a technocratic government would recognise the UK's long term economic competitiveness rests on its ability to attract investment in the technologies that will dominate the 21st century. How wrong was I?
Last night's leak revealing the government is preparing a bonfire of decarbonisation policies, Rishi Sunak's frankly garbled statement confirming a major announcement was imminent, and this morning's news the Prime Minister will address the nation from Downing Street, all point to a panicked and divided administration willing to take a huge gamble with the UK's long-term economic security and international standing in the hope maybe this is the thing that will chip away at Labour's 20 point poll lead.
There are two sides to the government's plans, one policy-focused, one political - one is disappointing, but ultimately manageable for the green economy, the other is potentially disastrous.
On the policy front, it is worth looking at the detail of what is being proposed. A leaked agenda from this morning's emergency Cabinet Meeting handed to the Newsagents' Lewis Goodall, suggested Number 10 was planning to:
"Delay the off-gas-grid fossil fuel ban until 2035 and relax the requirement from 100 per cent to 80 per cent of households".
"Relax the gas boiler phase-out target in 2035".
Promise "no new energy efficiency regulations on homes".
"Increase the Boiler Upgrade Scheme grant by 50 per cent to £7,500".
"Announce the requirement for all vehicles to have significant zero emission capability in the period 2030-35 is to be removed".
Promise "no diet change measures to reduce carbon emissions".
"Announce that households will not be required to have seven bins to meet recycling targets".
And commit to "no new taxes on passengers to discourage flying".
Make no mistake, these are retrograde steps that will undermine investment, restrict job creation, weaken energy security, and lead to higher energy bills for longer for everyone. The furious response from business groups this morning, including some of the biggest investors in the UK's net zero transition is both understandable and justified.
These changes also make it considerably harder to meet the UK's legally binding emissions targets and obliterate its previously effective ability to call on other countries to adopt more ambitious decarbonisation policies of their own.
But the proposed policy changes will not halt the global clean tech revolution. Indeed, the impacts of some of them will be pretty negligible.
Rightly or wrongly, the government has no plans to introduce new taxes on flights or meat. Sunak is proposing to rule out something no one expected him to do. Similarly, axing proposals for seven separate recycling bins does not necessarily mean a more standardised approach to recycling collection will not be forthcoming.
The proposals to delay the target date for phasing out gas boilers and the commitment not to introduce new energy efficiency rules for landlords and households are more serious and will undoubtedly lead to higher emissions, bigger energy bills, and more fuel poverty. They also jeopardise planned investment in the heat pump and green retrofit industry from many of the UK's leading energy companies. But even here the proposal to increase heat pump grants suggests the government could still seek to drive building decarbonisation using the carrot rather than the stick.
Similarly, the plan to delay the target date for ending the sale of internal combustion cars from 2030 to 2035 - note, this was never a ban on petrol and diesel cars, as plug-in hybrids were always expected to be sold beyond 2030 - is a serious change that has left many in the auto industry apoplectic. The government has just made it considerably harder for the UK to attract investment in the electric vehicle (EV) supply chain.
But again, while Sunak is proposing to hand a competitive lead to Norway, the Netherlands, and others, the change would only bring the UK into line with the EU's planned internal combustion engine phase out date. Even the Climate Change Committee said the 2030 target was pretty ambitious, arguing that a 2032 date could still work. Moreover, surging demand for EVs means that the vast majority of the market is set to be zero emission by 2030, regardless of the precise target date the government opts for.
If you squint, it is just about possible to see how Sunak could this afternoon argue that he is taking a more "pragmatic", market and innovation-led approach to net zero that will minimise the impact on consumers and still unlock the economic opportunities on offer, especially if he combines the proposed weakening of targets with more generous incentives.
But that is where the good news ends.
The problem for the government with such a narrative is that it is not delivering that market and innovation-led approach to decarbonisation at anything like the pace and scale required. Sunak can hardly argue the UK can afford to go a bit slower on building decarbonisation when the government has just screwed up the latest clean energy auction and planning reforms so badly that the offshore wind pipeline has stalled and the UK's power sector decarbonisation targets are now at risk.
Without a raft of fresh policies and investments it is almost impossible to see how the government can scrap these various decarbonisation policies and still meet its emissions targets for the 2030s. It will face legal action and will almost certainly be found to be in breach of the Climate Change Act. Unless, that is, the government changes the targets or repeals the act. Maybe that was what Sunak was hinting at when he last night promised to "set out an important long-term decision we need to make so our country becomes the place I know we all want to be for our children"? Although such a drastic change would require both the necessary votes in Parliament and some sort of mandate, both of which Number 10 would struggle to secure in a country where a significant majority of the public want to see more, not less, climate action.
Which is where the politics come in. It is almost inconceivable that the government would have flirted with such ideas were it not 20 points behind in the polls. It requires thermonuclear levels of cynicism, but the primary driver behind these proposed changes appears to be a desire to run election posters stating that 'Labour wants to ban your car' - posters that will not feature a footnote confirming that 'we do too, just a couple of years later'.
It is going to be the dirtiest of election campaigns. And in the process the government will repeatedly fuel the idea that the net zero transition is costly, damaging, and an affront to the working man or woman. The subtext will be that the climate crisis is not really that bad and doesn't really matter. The UK's energy security, long term economic competitiveness, and political consensus on climate action will all be collateral damage.
Labour should take heart from the experience of its sister party in Australia and welcome the focus on climate action. But it will still face a tricky balancing act as it seeks to advance decarbonisation policies, while wrestling with a barrage of attack ads and media hit pieces that will exaggerate the cost implications of everything it proposes.
Regardless of who forms the next government - and who knows, it could be Sunak himself - they will have to contend with the fallout from Number 10's scorched earth approach to climate policies. They will have to introduce new measures to try and secure clean tech investment at a time when such industries are being wooed by the US, EU, China, and India. They will have to tackle shameful levels of fuel poverty and poor health. They will have to work out how to revive industrial regions where companies are threatening to leave if the UK cannot deliver a credible net zero strategy. And they will have to do it all against a backdrop where climate action has been fully weaponised by a government peddling the myth that climate action is a hairshirt agenda.
Barring a late change of heart, a massive Parliamentary rebellion, or the most sophisticated piece of political triangulation ever seen - something Sunak has shown no signs of being capable of - the government is about to U-turn on multiple critical parts of the programme on which it was elected. In the process, it will make the UK more reliant on fossil fuel imports in the middle of a global energy supply crisis, undermine investment and business confidence as the economy again flirts with recession, and dilute climate action at a time when catastrophic climate impacts become more visible by the week. Like I say, I didn't think they would do it.