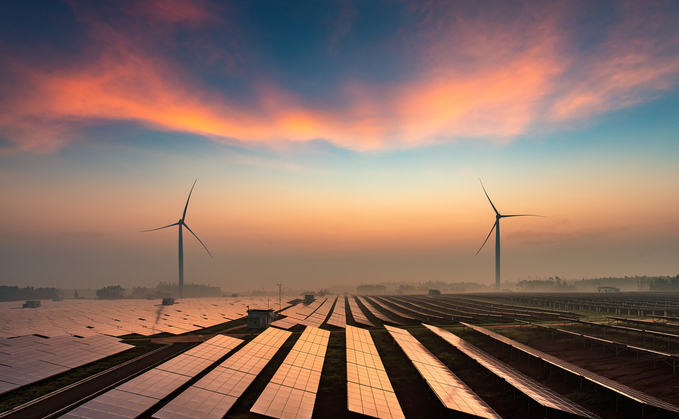 The goal of fully decarbonising the grid by 2030 is daunting in the extreme, but Labour seems to understand the scale of the transformation that is needed to revive the UK economy
You've got to admire the ambition.
Ahead of Keir Starmer's speech yesterday providing fresh details on Labour's 'mission' to establish the UK as a 'Clean Energy Super Power' much of the debate was on the fiscal and energy security implications of ramping up public investment in green infrastructure and halting new licenses for oil and gas drilling.
These are interesting and important issues that have seen Labour anger some remarkably unusual bedfellows in the form of the Conservative government, various trade unions, and green activists. On one hand, Tory Ministers and trade union leaders argue blocking new fossil fuel projects amounts to the Labour leadership recklessly gambling with the UK's energy security. On the other, green campaigners argue diluting green investment plans and refusing to retrospectively revoke drilling licenses issued ahead of the election amounts to the Labour leadership recklessly gambling with the UK's climate security.
However, this highly politicised debate has distracted from a much more interesting and consequential question that stalks Labour's decarbonisation plans: can it be done?
It is hard to overstate the scale of the ambition contained in Labour's central goal of delivering a net zero emission power system by 2030 - a full five years earlier than the government's already stretching goal to decarbonise the grid by 2035. Given we are likely still around 18 months or so out from an election, an incoming Labour government - assuming the Party can maintain its poll lead through to late 2024 - would have a single Parliament to deliver an utterly unprecedented transformation of the UK's energy system.
At a purely practical level, delivering on such a target would require the mobilisation of infrastructure and supply chains at a pace and scale not seen outside wartime.
Starmer's speech yesterday contained lots of encouraging policy proposals that should all help to catalyse increased levels of renewables investment and deployment. The promise of a state-owned investment vehicle to lead work with community energy groups, a new green sovereign wealth fund, reforms to clean power contracts to encourage more domestic supply chain development, confirmation all regulators would have a net zero mandate - these are all good ideas that would provide a much needed uptick in development.
Equally, the details may be TBC, but Starmer's confirmation that sweeping planning reforms, ambitious energy efficiency programmes, and faster grid connections are in the pipeline all suggest that Labour understands where the clean tech bottlenecks lie and is committed to tackling them.
What is less clear is whether this yet adds up to a plan that can almost completely decarbonise the grid inside 60 months.
It is undoubtedly the case that the UK could drastically increase the pace of decarbonisation if it reformed planning and fully committed to clean energy deployment. But grid constraints, the need for long term duration storage capacity and back up hydrogen and CCS plants, not to mention worsening skills shortages, make the delivery of a fully decarbonised grid an immense challenge. Further policies and more detailed spending commitments will be needed.
Starmer was insistent the goal is achievable, telling Sky's Beth Rigby that Labour was "doubling down" on its decarbonisation plans and had received assurances from the likes of Centrica and others in the energy industry that the 2030 goal could be met, just so long as they are allowed to to "go for it".
Others will remain unconvinced. The idea a country that takes three decades to build a high speed rail line can transform its entire energy system inside five years will stretch the credulity of supporters and opponents alike. There will even be a school of thought that Labour has signed up to a target it does not fully understand - as is rumoured to have happened back when Tony Blair agreed to an EU goal to source 20 per cent of energy from renewables, allegedly thinking it referred to power.
But that is not the case this time around. The development of the plan has been led by Ed Miliband who knows this brief inside out and backwards. Starmer and his Shadow Chancellor Rachel Reeves are far too inherently cautious to sign off on this kind of agenda without weighing the implications. If it is hugely ambitious - and it is - then that is a deliberate choice.
And, for all the technical and political challenges, it is an understandable and defensible choice.
There is growing evidence that renewables deliver lower cost power and greater energy security than fossil fuels, as evidenced by yet another report today from the Oxford Smith School. As that report put it, 'the faster we go, the more we save'.
There is also a proven policy playbook from all around the world that shows how rapid emissions reductions can be achieved, while boosting economic performance. The Tony Blair Institute (him again) today added to the library of reports showing how planning reforms and grid upgrades can be accelerated. Having such a bold target should help give a Labour government the mandate it will need to face down the inevitable media and political backlash that will come when it tries to actually deliver the planning reform that remains the single biggest barrier to achieving the UK's net zero goals and revitalising its increasingly moribund economy.
And then there's the ever more impressive clean tech portfolio that is proving itself ever more effective. Crucially, a Labour government would not be starting from scratch with this mission. Arguably the Conservative government's biggest (and most under-reported) success over the past decade remains the way coal power has been virtually phased out and clean tech deployment has surged. Over 50 per cent of the UK's power already comes from clean sources. We're halfway there and the pipeline of massive offshore wind projects, new nuclear plants, and energy storage projects means significant progress will be made over the next five years almost regardless of what the next government does.
Add in the continued emergence of exciting new clean technologies - witness yesterday's launch of the UK's first deep geothermal energy project in almost 40 years - and it is possible to see how deep decarbonisation can be delivered. A net zero emission grid by 2030 feels like it is right out at the edge of what is possible, but break it down into its constituent parts as Labour's has done with its sectoral targets - 55GW of offshore wind capacity, 5GW of floating offshore wind, 50GW of solar, 35GW of onshore wind, Hinkley Point and Sizewell C nuclear plants, 10GW of green hydrogen - and you can see how it might be done.
It remains open to discussion as to whether or not the 2030 target is fully achievable, but that debate also triggers the question as to whether or not it really matters. As Matt Rooney at the Institute of Mechanical Engineers observed this morning: "We get hung up on arguments over a 100 per cent zero carbon grid and the year it is achieved. We need to get to 95 per cent ASAP and then 99 per cent ASAP. The last one per cent will be the most difficult and the year we achieve it matters least."
The pace of change to which Labour is aspiring is what is required to deliver on global climate goals and ensure the UK does not squander its position as a world leader in clean technologies. It is the only growth path available for an economy that has been flat-lining for far too long. It is a genuine energy security plan that would slash fossil fuel imports and drive regional development.
It is refreshing to see a politician take on the risks that come with an immensely ambitious target, because they recognise it is better to strain every sinew in pursuit of deep decarbonisation and fall short than it is to tick along at a more obviously achievable pace that risks locking in disastrous levels of warming.
As a political leader who knew a thing or two about the big picture once famously observed: "we choose to go to the moon in this decade and do the other things, not because they are easy, but because they are hard."
It is often forgotten what "the other things" were in Kennedy's historic speech, but he was referring to all the great advances in the entire millenia-spanning history of human civilisation: the construction of the first shelters, the development of writing, the wheel, the discovery of gravity, the steam engine, "electric lights and telephones and automobiles and airplanes". The seemingly impossible developments that became possible because humankind chose to make them so.
Starmer will not couch the Green Prosperity Plan in such stirring terms - it is not his style - but this is Labour's moonshot, its war effort, and its industrial revolution all rolled into one. By setting a target that seems almost impossible, it might just achieve it.