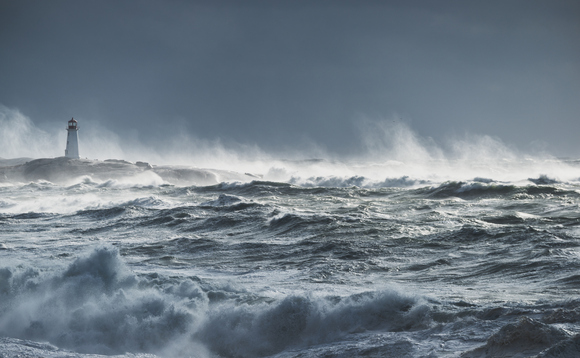 The latest IPCC report is more sobering than ever, and emissions are still rising - but climate doomism is not an option
Resisting the urge to despair after reading yesterday's latest report from the IPCC is an act of considerable defiance. So-called 'climate doomerism' gets a lot of well-deserved flak for both its self-indulgent defeatism and apocalyptic absence of nuance, but on weeks like this the impulse is understandable.
The single most pertinent fact contained in the IPCC's sweeping synthesis report is that global greenhouse emissions are still rising. The almost unbearably bleak projections contained in the report are based on the assumption current climate policies and clean tech trends work and emissions start to broadly flat line over the coming decades. Even then the world would be looking at nearly 3C of warming by 2100 and all the risks of runaway warming that come with it.
But emissions are still rising. And investment in fossil fuel infrastructure and ever increasing extraction is still continuing. Until real world emissions start to fall it is impossible to dismiss the worst case scenarios that animate doomers' nightmares. There are large chunks of the scientists' graphs that should be marked 'here there be monsters'.
How then to resist the gathering sense of looming despair?
Thankfully, the clarity contained in today's IPCC report contains some useful pointers.
Firstly, the science is more compelling than ever. There is little left to debate here. It's happening. We are causing it. It's going to get a lot worse. We know how to stop it. This is the reality accepted by every government and major institution on the planet, not to mention the vast majority of the public.
Secondly, doomism remains utterly self defeating. As the energy and climate commentator Ketan Joshi explained yesterday the problem we are dealing with is "a thing that accumulates - not a ticking clock, but a flooding room". That means, as US writer David Roberts similarly used to argue, 1.5C is better than 2C, which is better than 2.5C, which is better than 3C, and so it goes. The battle against climate change is one of increments, and as such no matter how bad things get it never really ends. In that context, if you care about the future of human civilisation, succumbing to despair is not really an option.
Third, as the IPCC was at pains to stress, the solutions to this crisis exist and are increasingly proven to work. The global clean tech investment blitz has demonstrably started to bend the emissions curve in the right direction. There is sufficient capital available to turbocharge clean tech deployment from here on out. Everyone with even a passing understanding of the climate crisis knows what the solutions are: renewables, energy efficiency, smart grids, sustainable agriculture, electric vehicles, public transport, active travel, livable communities, alternative proteins, circular material flows, hydrogen, batteries, and yes, nuclear and carbon capture. There are credible reasons to think the net zero transition is close to its own tipping point whereby global emissions peak and then start to fall rapidly as all these technologies mature and internal combustion engines and fossil fuel power plants go the way of steam trains and whale oil.
Fourth, even under this best case scenario the hottest summers of this decade will be the coldest summers of the rest of our lives. The climate has changed and extreme weather will continue to accelerate. There is a need for resilience in all things that remains grossly underappreciated by political and corporate decision makers at almost all levels. Building climate resilience needs to be put on an equal footing as efforts to decarbonise - and they both have to be prioritised over the siren calls of business as usual and petrostate realpolitik.
Finally, the global economy is going to need carbon removals. The question of moral hazard and the risk of a well intended sector being hijacked by polluters makes many people extremely nervous. But it is practically inconceivable that the climate can be stabilised in the coming decades at a level even vaguely close to 1.5C without some form of carbon removals. Again, it can not be stressed enough that the Paris Agreement target of 'well below 2C' is not some arbitrary number plucked out of thin air. It is the goal that seeks to reduce the risk of the rainforest die off, the permafrost melt, and the ocean acidification where the monsters on the scientists' charts lurk. To say every available tool is likely to be needed to deliver on these goals is not to fall victim to the oil and gas industry's latest nefarious ploy, nor is it to inherently distract from the need to cut emissions at source.
For all the IPCC's admirable attempts to map a route out of the current crisis, the bleak truth is that the path towards a stable climate is looking more precarious than ever. It is informative that no one talks of a 'safe' climate or the need to avoid 'dangerous' climate change any more. It is already dangerous and is not going back to calm waters in our lifetimes. That ship has sailed.
Emissions are still rising and climate impacts will only intensify throughout the coming decades. It is almost impossible to get a grip on the scale of this thing. The way it changes everything, the myriad interconnections, the tipping points, the second and third order risks that flow from a failed harvest or inundated city. But it is inconceivable that the geopolitical instability and gathering authoritarian backlash against democratic and Enlightenment values is not shaped to a sizeable degree by the pressures being placed on the natural world and the cracks that have resulted in many of the Earth's most precious life-giving ecosystems. We are pushing the only known habitable biosphere in the universe, and the civilisation it sustains, into the most of dangerous territories.
But if despair in the face of this reality is understandable it is also supremely unhelpful. The best way to maintain resilience in the face of any threat is to act in its defiance. To secure some agency. The good news is that there is a plan. It is a good plan. Executing on it will deliver immense benefits for humanity and avert a threat that is too close to existential for comfort. There is work to do.
A version of this article first appeared as part of BusinessGreen's Overnight Briefing email, which is available to all BusinessGreen Members.