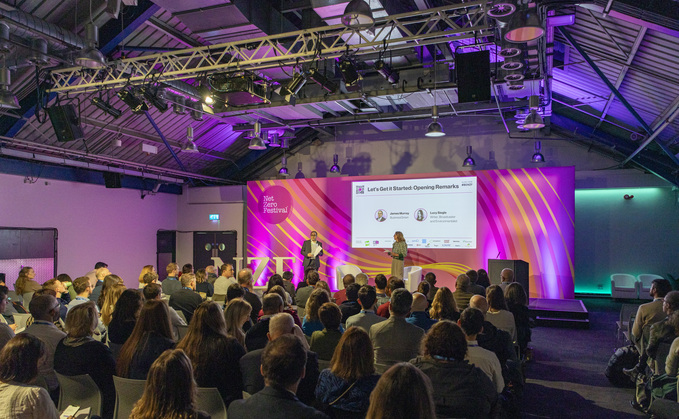 Catch up on all the latest news, top speakers and in-depth discussion from day one of BusinessGreen's biggest Net Zero Festival yet
BusinessGreen brings you up to the minute coverage the Net Zero Festival 2023 in London, which over the next two days is set to feature over 3,000 delegates and scores of top business leaders, influential policymakers, inspirational thinkers, comedians and artists to discuss the many opportunities and challenges on the pathway to a zero carbon economy over the next three decades.
For while the global economy may face numerous challenges from heightened geopolitical tensions, soaring energy prices, rising food costs and inflationary pressures, the necessity and urgency of slashing emissions and building a greener, fairer economy and society has not gone away. Far from it - even as political attacks on net zero have intensified, the wholesale decarbonisation of the economy has never held as much sway over the political discourse as it does today, has never had boasted the same level of full-throated backing from the business community before, and scarcely has public and consumer awareness surrounding sustainability topics ever been greater.
Climate and nature crisis remains the single biggest challenge the world must contend with, and there is a huge amount at stake - particularly with the crucial COP28 UN climate talks soon due to get underway in Dubai from the end of November, and critical elections set to take place in both the US and likely the UK next year. Against that backdrop, the Net Zero Festival aims to offer invaluable guidance on how firms and organisations can turbocharge their decarbonisation efforts and get ahead of major economic and technological trends being catalysed by the net zero transition.
For coverage of the action-packed programme, BusinessGreen's liveblog below will be providing updates throughout the first day of the Net Zero Festival, which boasts a line-up of speakers, discussions and workshops featuring the likes of leading political commentator Alastair Campbell, Net Zero Review chair Chris Skidmore MP, ShareAction CEO Catherine Howarth, Futerra co-founder Solitaire Townsend, Coca-Cola Europacific Partners' head of climate and sustainability Sam Jones, and many, many more.
With thanks to Net Zero Festival partners and sponsors OVO, Innovate UK, Amazon, BrytEnergy, Carbon Limiting Technologies, CEN-ESG, Changeblock, Coca-Cola Europacific Partners, Dentsu, Equans, Hays, Inenco, JLL, Legal & General, Sage, Tetra Pak, Verco, and the Woodland Trust.
Want to understand what is going on at the cutting edge of sustainability? Check out BusinessGreen Intelligence - the premier information for professionals focused on the UK's green economy.
--