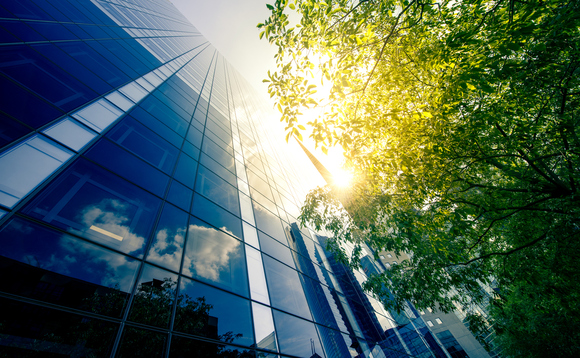 Hosted in association with Equans, the latest BusinessGreen webinar explored how firms can ensure buildings remain safe and productive as climate impacts intensify
Climate action is typically cleaved into two broad categories. Efforts to prevent global warming from worsening, known in the jargon as climate mitigation, have long dominated governments' response to the climate crisis. In contrast, strategies to ensure the world can better cope with the threat posed by escalating climate impacts have been somewhat sidelined. Only in recent years have governments recognised more funding will need to be provided to help developing economies adapt to worsening climate risks, and even then the question of how to mobilised increased investment remains highly contentious.
This disparity in the focus enjoyed by climate mitigation and climate resilience is replicated within many corporate climate plans. Large numbers of the world's top businesses have announced some form of emissions reduction goal, as it becomes apparent business practices must become less climate intensive if they are to work within planetary and regulatory boundaries. But climate resilience remains a much less chartered territory for firms, with sustainability strategies typically focusing on water, carbon, and waste reduction, and having little or nothing to say about climate resilience. If they feature at all, existing or imminent climate-related risks are often relegated to corporate annual reports, where growing numbers of large firms set out how they have complied with the Taskforce for Climate Related Financial Disclosures (TCFD) reporting regime.
Experts have long warned businesses will have to move past their climate resilience blindspot if they are to cope with ever-escalating climate risks. Last year's floods, droughts, and storms hurt transport and building infrastructure up and down the country, taking a toll on public health, worker productivity, and the wider economy. As scientists keep warning, these direct impacts are the shape of things to come, posing a serious and growing threat to businesses and their supply chains.
However, there are pre-emptive steps companies can take now to bolster the resilience of their physical assets and business models, so as to reduce the risk of having to spend more significant sums on damage control in the future. As a webinar hosted by BusinessGreen and Equans last week highlighted there is a range of best practices companies can embrace to make their buildings more climate resilient. Here are some of the key takeaways.
Understand climate impacts and risks for what they are
Karl Limbert, director of strategy and external relations at Equans, said it was critical that businesses started to appreciate that extreme and erratic weather events were climate change, and not "ad-hoc, unfortunate weather".
Companies that embrace this "mental shift" will be more clear-eyed about the scale of the challenge when plotting potential solutions, he argued. "We need to move from understanding this stuff as unfortunate weather, and recognise it is actually the climate change we are talking about with the net zero agenda," he said.
The good news is that larger firms typically already have teams and funding dedicated to facilities management that can lead work to respond to these risks. But too often, these teams are not equipped with the information they need to ensure their work aligns with climate projections.
"This is a kind of mindset issue, as opposed to a huge investment issue," Limbert said. "Every organisation that owns a larger estate or a large portfolio of buildings will already have a fairly well advanced programme of facilities management… What is [needed] is a regime at the front end that enables asset owners to understand and then take steps to manage those risks appropriately within their existing [facilities management and upgrade] programmes."
There are broadly five areas where climate impacts are hurting the UK's built environment, according to Limbert: overheating, flash flooding, water scarcity, storm damage, and the widespread infrastructure changes required to introduce space cooling in buildings.
There are also a number of slower-moving threats to buildings in the UK, such as the impact drying soils have on building foundations.
"There is a broad variety of threats," acknowledged fellow panellist Garth Marshall, head of climate change and sustainability at Zurich Resilience Solutions. "And it's probably not all the most obvious ones that could be impacting infrastructure and assets or organisations."
New types of data
To understand the climate risks to their buildings, organisations need to get educated. And this means getting to grips with new data streams.
"To engage with the adaptation agenda is going to require organisations either public or private, large or small, to engage in in a different data set," explained Tim Foreman, senior teaching associate at the Cambridge Institute for Sustainability Leadership. "For instance, the Met Office climate model and various other sources."
This data collection exercise, he said, should provide firms with much more granular insight into the risks specific buildings face.
Zurich Insurance Solutions' Marshall also pointed to the importance of data gathering, noting the insurer parsed various data sources when working to help companies work out what their top priority projects should be.
Describing a typical investigation into a firm's climate risk, he said: "I would look at the current natural hazard risk, based on the historic data, and the climate change risk, looking at forward-looking data. From that you can basically go and prioritise which locations or assets are more at risk, due to climate change. And you can quantify and weigh the [assets at risk] by total insured values, by CO2 emissions, even by number of employees or number of people in that specific building."
This kind of risk assessment exercise is important because the climate impacts building face can vary significantly based on their precise location, building type, and surrounding infrastructure.
Passive and active strategies
There is no one size fits all approach to making buildings more resilient. Buildings across the UK range in age and type, and different parts of the country are exposed to different risks, from sea level rise around the coast to the urban heat island effect in city centres. At the local level, overheating or flash flood risks can vary from street to street and building to building.
"[Building resilience] is all inherently local and inherently bespoke," said Equans' Limbert. "Different risks manifest themselves differently in different locations. You adjust the risk and intervention profile accordingly."
Similarly, once you understand the risks buildings face the response to those risks can vary massively. CISL's Foreman acknowledged that interventions available today ranged from the relatively easy to difficult to execute. "Some of the strategies can be very simple, for instance moving a building services plant (boilers, chillers) from the basement up to the upper storeys," he said. "It is not necessarily cheap thing to do, but it is a relatively straightforward thing to do. But things get much more complex and wicked when we start talking about interventions to the fabric and services and infrastructure of a building."
Lynne Sullivan, an architect and former climate change ambassador for the Royal Institute for British Architects (RIBA), stressed the UK had to learn from hotter European countries about how to deploy passive strategies to deal with heat. Closing shutters in summer, planting greenery, installing tiled floors, and designing to ensure shade and ventilation can all help reduce the need to cool buildings using energy-hungry technologies. "We have to learn how to do those [passive techniques], otherwise we're facing a massive increase in need for electricity for cooling," she said.
Behaviour change will be key in ensuring these passive strategies take off, Sullivan added. "You can get it get a long way with passive strategies but we do have to relearn it culturally," she said. "For instance, not admitting the sun in a way that means we are overheating our spaces and can't cool them off at night. We have to learn new behaviours and new aesthetics."
Planting greenery around a building is not just visually attractive, but it has a physical impact on the ambient temperature and can help businesses contribute to the biodiversity agenda, if planned correctly, she added.
Not just about climate
Poorly insulated buildings are not only a climate threat, because they require more electricity or gas to heat and cool, they can also pose a threat to public health and help to fuel the cost-of-living crisis.
Businesses need to realise that investments that make their buildings more efficient and pleasant will benefit them in more ways than one. Not only will investment in building resilience help meet climate goals, but it could boost the productivity of employees and significantly bring down their energy bills.
"We have to think about this whole resilience agenda in light of the health and wellbeing agenda as well," Sullivan said. "And indeed, the productivity agenda. Productivity is the greatest business asset - people power. Increased temperatures are really troublesome in relation to productivity."
Meanwhile, Foreman stressed that physical and social risks of climate change would snowball if not addressed properly. "There are multiple risks, both physical and social - and we should remember that there's also the sort of compound risk effect," he said. "So, if we have more than one physical risk, if we have physical and social risks are factors to consider, suddenly the equation is incredibly complex. Managing that complexity is core to the sustainability challenge."
Enhancing the climate resilience of buildings is a complex challenge defined by a wide array of risks and potential solutions, and further complicated by underpowered regulations and the difficulty of undertaking cost-benefit analysis for projects that tend to unlock productivity and risk reduction benefits that can be hard to quantify. But as last week's webinar underscored it is a challenge all businesses will have to wrestle with as climate impacts escalate and existing buildings become ever less fit for purpose.
BusinessGreen's webinar 'Building resilience: How to adapt to escalating climate impacts', hosted in partnership with Equans, is available to watch on catch-up here.
Want to understand what is going on at the cutting edge of sustainability? Check out BusinessGreen Intelligence - the premier information for professionals focused on the UK's green economy.