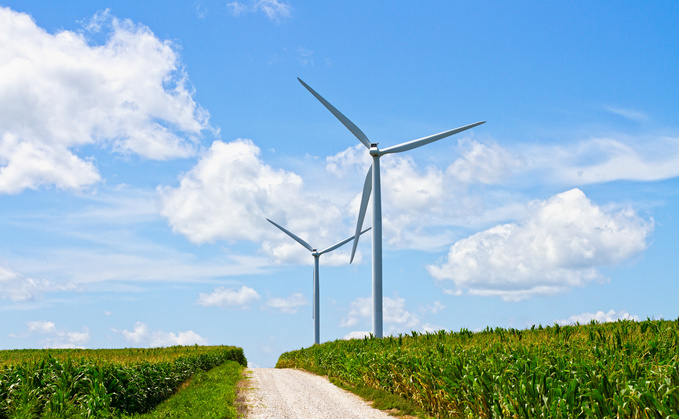 Industry Voice: Dow's lead sustainability director Jihane Ball argues the case for a flexible and ambitious UN global plastics agreement
I've worked across many roles over the last 17 years with the materials science company Dow. No matter what the role, sustainability has been at the core. Specialty plastics and packaging is a significant part of Dow's business, from packaging for food and medicine, wire and cable materials, to specialised films and adhesives for industrial applications, we serve much of the world with the materials it needs.
But we are also radically changing our business models and challenging ourselves with more ambitious targets in both climate and circularity, among others. Now, in my role as lead sustainability director, I'm focused on advancing circularity and I firmly believe that a circular economy for plastics is the strongest solution to the plastic pollution challenge - and critical to securing a low carbon economy, across our industry, in our value chains and society at large.
Last year, over 160 countries worldwide agreed to draw up a global agreement to tackle plastic pollution, which could offer a promising opportunity to reshape the future, one that is inclusive and sustainable.
What exactly is the global plastic pollution agreement and why is it important?
Plastic pollution is a global environmental challenge that poses threats to biodiversity, the climate, human rights and the economy. All countries which ultimately become signatories to the global plastics pollution agreement will be legally bound to implement measures to prevent plastic pollution by considering the full life cycle of plastics, from the way plastics are produced and designed right through to how they are managed after use.
The agreement which is currently being negotiated by over 160 countries is expected to address sustainable consumption and production of plastics, keeping plastic within a circular economy model, and preventing leakage to the environment.
Negotiations started in Uruguay in November 2022 and are set to conclude in December 2024. The negotiation timeline is short for a multilateral environmental agreement and reflects the urgency to end plastic pollution.
The scale of the challenge
The global plastics pollution agreement must serve its 160+ nations and the differences across these nations - such is the scale of the challenge. While some countries want individual nations to have flexibility in setting their own goals, a coalition of countries favour creating a common global top-down approach that every nation abides by.
The agreement must work both for countries that have sophisticated waste management infrastructure, but also for countries where even basic waste management is lacking or has significant gaps. The regulatory environments vary enormously too. For example, some countries have a mature policy environment that is helping divert plastic waste streams that would typically be incinerated or landfilled into recycling, further incentivising investments in circularity. Many developing countries struggling to increase recycling rates have resorted to single use plastic bans to minimise the amount of plastic waste.
Growing up in Lebanon, I've witnessed first-hand the struggles of poverty and conflict in a war-torn country, and how competing challenges can mean that issues such as plastic waste or robust waste management end up slipping down the agenda. Today, many countries experiencing challenges such as political instability or devastation from natural disasters, simply do not have the capacity to also enact national policies to tackle plastic pollution. This is why the support of the international community and the private sector, under the guidelines of the agreement, is fundamental to ensuring no countries are left behind.
We must use the agreement as a driver to support each country with solutions based on their needs, while ensuring a continuous increase of ambition to meet the overarching objectives.
Getting to a flexible and ambitious agreement
I believe that for this agreement to be effective at ending plastic pollution as quickly as possible, it needs to be implementable by all countries. It should enable sufficient flexibility while ensuring countries make progress towards ending plastic pollution.
First and foremost, the agreement should recognise that countries' respective starting points are very different in terms of the drivers for the consumption of plastics, available infrastructure for waste management, existence of policies that incentivise collection, sorting and recycling of waste, and the local stakeholders involved. As a case in point, families in my home country, Lebanon, depend on bottled Spring water to drink due to limited water security and sub-optimal drinking quality. My family consumes as many as six 1.5-liter bottles per day. Reducing the availability of plastics, without first fixing the foundational issue of water quality and security, leaves people behind.
Simply put, developing countries will need help with capacity building. Whatever shape the agreement ultimately takes, it must provide "how to" playbooks, policy toolkits, funding opportunities, design guidelines for circularity that enable re-use and recyclability at the local level, and guidance on environmentally-sound policies that consider the full lifecycle impacts of alternatives materials.
I liken this to helping someone crawl before they can walk or run.
The role of business
While there is an imperative for governments to act, there has never been more room for businesses to take the lead and accelerate the reform that the agreement will define. I am incredibly proud that Dow supports the agreement and is providing input on how best to achieve its intended outcome with business engagement. Innovation and investments are needed to end plastic pollution and the multi-stakeholder dialogues as part of the agreement negotiations are critical to finding balanced solutions that unleash innovations and investments to end plastic pollution.
Government support for negotiations is critical but we cannot wait for an agreement to instigate action. Dow is making investments and partnering to build up industrial ecosystems and to bring circular solutions to markets across the world at scale - from bio-based feedstock for plastic to new high- performance plastics that are recyclable and made from recycled plastics. To this end, Dow's participation in circular economy funds like Circulate Capital, Lombard Odier and Closed Loop Partners, and industry alliances, such as Recycling Partnership and the Alliance to End Plastic Waste, are driving the creation of replicable and scalable solutions to accelerate plastic circularity and connecting these solutions to catalytic capital. But we need to go further, faster. We see the agreement as an accelerator and a catalyst for an inclusive, low carbon, circular economy for plastics.
Enabling meaningful participation
Waste collection remains a huge challenge in many countries, so I was thrilled that waste pickers were formally represented in Uruguay, by the newly formed representative body, Group of Friends of Waste Pickers. This was and is an unprecedented recognition of the rights, skills, and importance of the informal waste sector and the representation of often lesser-heard voices is vital for meaningful participation in this negotiation.
In countries where there is an absence of formal waste collection, the informal waste sector is of critical societal importance where it provides employment to thousands and is fundamental to the livelihoods of many more. The number of people working in the informal waste sector globally is incredibly hard to determine, but in South Africa alone there are an estimated 90 thousand people collecting recyclable waste materials to earn a living. Dow is proud to be investing in pioneering partnerships with local organisations including Mr. Green Africa and Wecyclers, organisations that support waste pickers with the right tools and access to recycling points to enable the collection, recycling and reuse of plastic waste across Africa and support more effective waste collection and sorting infrastructure. Importantly, these partners are supporting livelihoods by paying a fair income to the waste pickers, treating them with dignity and respect, as their work plays a key role in recovering reusable waste and contributes significantly to environmental protection. There are huge opportunities, which are currently under-explored, to invest in the informal waste sector to improve environmental and social footprints and drive local approaches.
The next round of negotiations must prioritise an inclusive transition that creates decent work opportunities for all and provide each nation with clear goals and the tools to deliver.
Looking to the future
There is no doubt that this agreement will play a key role in shaping the future of plastics, for the better. At Dow, we agree that the way in which plastics are produced, used and dealt with at the end of life, must change to protect our planet and all those who live on it. But there is no way this challenge can be solved without a truly global and collaborative approach.
The global plastics agreement offers a generation defining opportunity to reframe the way we produce, design, use, reuse and dispose of plastics, and build an effective circular economy for plastics that works right across the world. It is not about enforcing unrealistic policies on nations affected by poor waste management, it's about meeting member countries where they are, and supporting them with a toolkit of strategies to stop plastic pollution and recognising plastic as a valuable material that should not end up in the environment.
I look toward the next round of negotiations with great anticipation, and I'm excited to be joining the pioneering forces in pursuit of an equitable UN global plastics agreement that enables a clean environment for all - after all, a clean environment is a fundamental human right.
Jihane Ball is lead sustainability director at Dow.
This article is sponsored by Dow read more here on Dow's role in securing an effective circular economy for plastics.