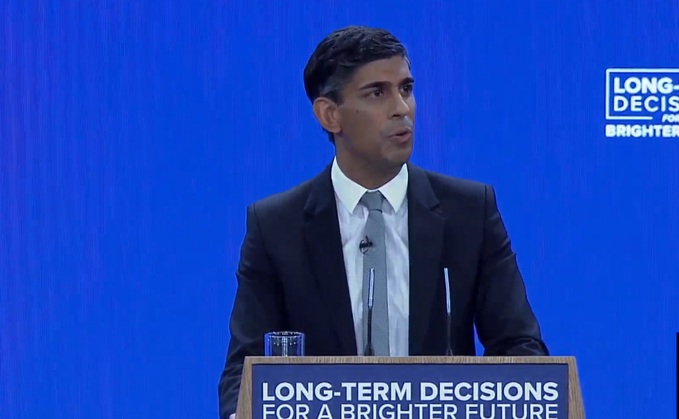 Rishi Sunak's comments on the government's net zero strategy displayed a worrying complacency - business leaders are right to demand more clarity on the path ahead
Everyone has buried the lede. Amidst all the excitement over Rishi Sunak's decision to axe the northern arm of HS2, scrap A-levels, and end smoking (all in all, less a coherent programme for government and more a list of Prime Ministerial pet peeves), reporters have overlooked the most exciting claim in the Prime Minister's speech - namely, the declaration that he has "solved" the "problem" of how best to deliver net zero.
Huge, as they say, if true.
This is not an exaggerated interpretation of Sunak's words - it is what he actually said to the hall in Manchester.
Early in his speech, the Prime Minister explained how his decision to roll back a series of decarbonisation policies was the embodiment of his ability to take "long term decisions for a brighter future". As such, he again sought to spell out how slowing decarbonisation efforts would benefit the UK in the long term, arguing that he had decided "it simply wasn't right" to ask households to pay for clean technologies that the UK did not even need to meet its emissions targets.
For good measure, he added that he would "take no lectures" on this from either people who could afford heat pumps, or those "other countries that have done far less than us". Now, it is only fair to point out that all Party Conference speeches are designed for domestic consumption, but in that single dismissive line Sunak took 20 years of UK climate diplomacy, doused it with petrol, and sparked up a bootlegged cigarette.
Having summarily rejected the government's many critics - a coalition that now takes in Greenpeace, the CBI, the Conservative President of the Glasgow Climate Summit, the chair of Ford, the multi-billion pound asset management industry, and Chris Packham - with his evidence-free insistence the UK's climate obligations and targets would be met, Sunak assessed his handiwork and declared the government had "solved a problem and offered an unapologetic defence of good Conservative common sense".
Again, it is important to remember these speeches are written to go down well in the hall and Sunak knows all too well that much of his party remains deeply sceptical about the entire net zero mission. But it remains a statement of breathtaking complacency and not a little arrogance.
The suggestion the costs associated with the policies Sunak has weakened were a "problem" remains highly contestible, but the idea the challenges associated with the net zero transition have now been "solved" by the application of some good old "common sense" is demonstrably ridiculous.
The government is still yet to explain in sufficient detail how it intends to make good on Sunak's increasingly tetchy insistence that emissions targets will be met. Decisions are awaited on offshore wind farm auctions, electricity market reforms, grid connections, transmission upgrades, carbon capture and storage, hydrogen production, nuclear funding, and a whole heap more besides. Every decision comes with cost implications and investment requirements, as well as considerable economic benefits.
The problem for Sunak is that simply declaring carbon targets will be met does not make it so, especially when the still to be released analysis Sunak keeps pointing to is bound to include some heroic assumptions about the offshore wind industry's supply chain capacity, the nuclear industry's ability to deliver projects on time and on budget, the green building industry's skills base, and the British public's willingness to embrace technologies the government keeps bad mouthing.
Meanwhile, if the question of how to help landlords avoid a bill to improve their properties has been solved, the question of how to stop millions of tenants freezing in fuel poverty this winter remains completely unresolved. There is a compelling argument that far from helping people avoid costs that they were not likely to face for years, the changes pushed through by Sunak in recent weeks will actually increase the energy and fuel costs faced by households over the next decade.
At the same time, the Prime Minister has set the hares running on the erroneous idea that the net zero transition is a costly burden on the economy and started flirting with letting the UK's most prominent climate sceptic into his Party. He has deliberately made it harder for any future government - including the one he aspires to lead - to make the decisions that will have to be made to unlock the next phase of decarbonisation and revive the UK's moribund economy.
For over a decade conference speeches from all parties have tended to include a section on the importance of the green economy as the engine of the UK's economic future, a trend of which the country can be rightly proud as well as a catalyst for investment, jobs, and innovation. Sunak chose to offer none of that.
The whole sorry mess is of a piece with the decision to scrap the northern arm of HS2 - a move that will divide environmentalists, but will do nothing to bolster confidence in capital intensive, long term infrastructure projects and could yet trigger a fresh spree of road-building.
The low key tragedy of all this is that beyond the political rhetoric, work is still being done across government to try and promote greener behaviours and attract much needed clean tech investment. The increase in heat pump grants, the on-going electricity market reform process, the green farming subsidy reforms and biodiversity net gain regime, the plans for CCS and hydrogen, the promise to sort out grid connection delays, the clear commitment to meeting net zero targets, even the new rail electrification projects funded through the scrapping of HS2, these are all good and important moves. The government has a genuinely impressive decarbonisation track record on which to build.
But progress is made much harder to maintain and investment is much harder to attract when Prime Ministers characterise net zero measures as unaffordable, allow Ministers to peddle blatant falsehoods about environmental policies, and then nonchalantly declare that some of the most complex policy conundrums in modern history have been "solved".
Sunak has solved nothing. In fact, he has only made the UK's net zero transition more challenging still.