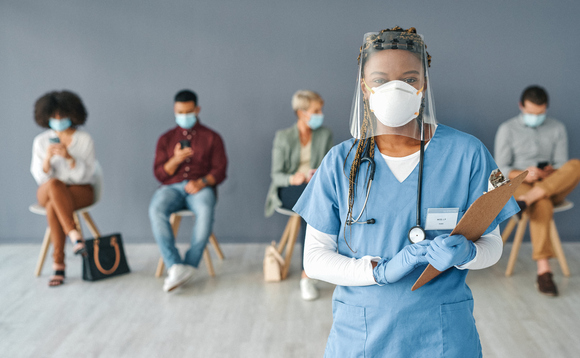 In a virtual roundtable ahead of this week's Net Zero Festival, business leaders and NGOs discussed how public health issues and climate change must be tackled together
Emissions reduction targets may have swept the private sector in recent years, but companies are yet to seriously capitalise on the opportunity to maximise the public health outcomes that should arise from their sustainability strategies. Too often, the 's' in ESG has been side-lined in corporate sustainability plans focused in large part on emissions reduction.
But in a virtual roundtable hosted by BusinessGreen earlier this month as part of its Net Zero Festival, sustainability and health leaders expressed hope that times are slowly changing. While decarbonisation initiatives have to date focused on climate and carbon in a somewhat technocratic way, growing momentum behind plans to enhance biodiversity protection and the need to deliver a fair net zero transition for workers suggests the corporate sustainability movement is starting to think more systemically about how the net zero transition can tackle myriad interconnected issues.
Because there is little question that climate strategies can have a galvanising role on improving public health and wellbeing. If the close relationship between human and environmental wellbeing had not already been made crystal clear from soaring rates of death and disease caused by polluted air, the pandemic has hammered home how the destruction of nature - in this case, species extinction and the deforestation of tropical forests - can have devastating public health consequences. It follows that actions that reduce air, water and plastic pollution do not just protect planetary health but can have tangible impacts on everyday lives.
The virtual roundtable, which was hosted in partnership with GSK Consumer Healthcare and attended by sustainability executives from Walgreens Boots Alliance, Barclays, Bupa, Amazon, Barclays, and AECOM, as well as representatives from non-profits and think tanks such as Global Action Plan, Forum for the Future and Clean Breathing Institute, saw experts share and discuss a range of best practices for integrating corporate climate initiatives with work to improve health and wellbeing and tackle inequality.
Participants made clear that action to drive down emissions can and should be designed to unlock health and social benefits for local communities, workers, and society at large. Decarbonisation efforts must make the most of their potential to improve air quality, tackle social inequalities, and boost the health of communities around the world.
Sally Uren, CEO of Forum for the Future, emphasised that all corporates should design climate interventions that catalyse broader change across the system, whilst also being designed to eventually stand alone.
"There are lots of examples of change outcomes that then catalyse broader change in the system," she said. "Companies should ask themselves: Am I designing for catalytic change? And then, am I designing for change that is self-sustaining? Is the change I'm trying to deliver at a place-based level or at a city level, will itself sustain? Have I worked with government, with policymakers with investors to create the conditions in which that change will keep on rolling through?"
A report published this month by Forum for the Future explored a number of ways climate interventions can deliver better health outcomes. For example, investments in nature-based solutions in regions where materials are sourced can reduce incidence of malaria by curbing excess flood water where mosquitos breed, while also boosting biodiversity and storing carbon. Similarly, company efforts to accelerate the uptake of electric transport, encourage active travel among employees, and clean up manufacturing processes can not only improve air quality but can encourage peers to follow suit and catalyse governments to embrace more ambitious policies that deliver cleaner air to a wider cross-section of society.
However, participants noted that there remains a general lack of awareness of the many ways health and climate issues are interlinked, with limited understanding, for instance, of how burning fossil fuels for cooking and heating homes and offices causes air pollution as well as climate change, or that deforestation can increase the incidence of new diseases because it destroys critical biodiversity corridors that provide an important barrier preventing dangerous pathogens jumping from wild animals to humans and farm animals.
GSK Consumer Healthcare's vice president of sustainability Sarah McDonald observed that efforts to publicly connect decarbonisation programmes with health outcomes can help accelerate progress on climate, noting that it will make the net zero transition seem more pertinent to people's everyday lives and encourage them to embrace 'greener' products and behaviours.
"The nexus between climate and heath is undeniable," she said. "Industry must continue to draw attention to these links, take action and move with urgency. Shifting people's mindsets from seeing climate change as a big issue 'out there' in the world that I can't do much about, to understanding how it affects you and your family's everyday health creates a real sense of urgency and accountability - catalysing people to make changes in their daily lives - choosing more sustainable products, adopting more sustainable behaviours and calling for ambitious action from governments and businesses."
McDonald said that GSK Consumer Healthcare has a unique perspective to offer on the interconnections between human health and climate change. "As a consumer healthcare company, it is very clear to us that for people to be healthy, they need to be living in a healthy world," she said. "The two are intimately connected. People need clean air to breathe clean water to drink, nutritious food to eat, and unfortunately, climate change is having an impact on all of those things."
She stressed that ramping up renewable energy capacity was critical to curbing the world's reliance on fossil fuels, citing World Health Organisation (WHO) figures which reveal air pollution causes more than seven million premature deaths each year, with 90 per cent of people worldwide living in areas where pollution levels exceed safe levels.
GSK Consumer Healthcare is currently working on a project with Walgreen Boots Alliance and industry body the International Pharmaceutical Federation designed to increase understanding among pharmacists and individuals about the links between air pollution and respiratory health. "We are looking at the role that pharmacists can play in helping people breathe better," McDonald explained. "People often notice their asthma, or their respiratory condition gets worse, and might not understand why. Giving tips around simple things you could do, for instance by changing the route you take, going two streets back to avoid a busy main road, or switching to active transport."
Attendees to the roundtable were also in agreement that growing public and policymaker awareness of the poor health outcomes caused by environmental degradation and air pollution could help to invalidate distracting arguments over the cost of net zero that risk stalling climate action at both the company and state level.
Uren emphasised that companies and organisations should work to bring together datasets that have previously been siloed to provide their shareholders and governments with a full and accurate picture of the true cost and benefits associated with delivering net zero emissions.
"One of the things we could do really easily is pull together that dataset that talks about the cost of investment in decarbonisation, with a dataset that talks about the staggering costs of dealing with air pollution in the UK," she said. "And then you get a more integrated cost-benefit analysis."
Across the board, participants stressed that companies' efforts to improve social outcomes in their net zero strategies must focus not only on reducing their operational and value chain emissions - for instance, transitioning to renewables, cutting down on travel, or switching to sustainable packaging - but also on using their voice and platform to encourage citizens to make greener choices and pushing governments to introduce policies that boost environmental and health outcomes.
Global Action Plan's Larissa Lockwood noted that vocal business support for the 2030 fossil fuel car and van phase out date gave government the confidence to move the target date forward last autumn.
She called on companies to take action now to improve public health outcomes. "It really is incumbent on all of us in this virtual room today to relieve this massive burden of ill health, to reduce health inequalities and tackle climate change," she said. "And by cutting air pollution, we can do all three of those in one fell swoop."
The experts also emphasised how companies should use the data they had at their disposal to work out the most efficient ways corporates could reduce the impact of their operation on public health.
In addition, participants highlighted how corporate decarbonisation plans could deliver a different type of social benefit by using their transition strategies to tackle regional inequalities and retrain workers who are working in declining fossil fuel industries, such as internal combustion engine vehicle mechanics and oil and gas workers. Several sustainability executives pointed to expanding apprenticeship and skills programmes that are aiming to help workers adapt to the net zero employment market and head off growing concerns over skills shortages in crucial green industries.
Robert Spencer, AECOM Europe's ESG lead, stressed that a systems approach must be central to companies' efforts to climate action, reflecting on how the resilience of Goldman Sachs' New York headquarters during Hurricane Sandy had ultimately been of no help to workers stranded in their homes by the floods. The bank's skyscraper famously stayed lit up as power outages caused by the superstorm plunged most of Wall Street into darkness.
"But of course, no one could get to it," Spencer said. "Because all the workers were stranded out in their in their homes out and elsewhere. So, you can make individual units as resilient as you like, for both climate and health. But you've got to think about the whole system if you're going to have a place in society."
Net zero strategies are advancing rapidly, but the message from the roundtable was clear: climate action risks being undermined if businesses forget about the 'S' in ESG and fail to maximise the huge social, health, and resilience benefits on offer from the net zero transition.