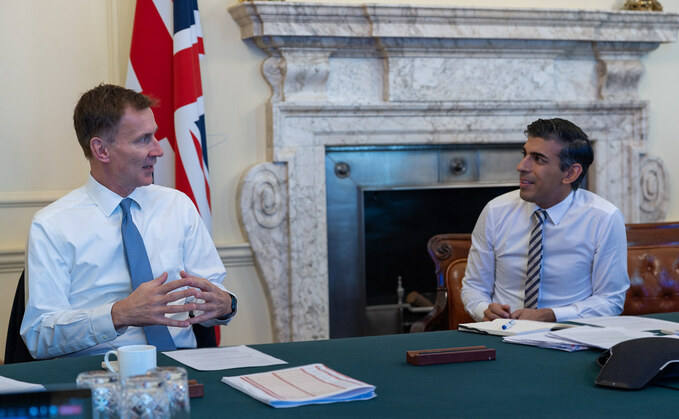 Jeremy Hunt's tax raid on clean energy and underpowered energy efficiency plans will do nothing to jolt the UK out of its decade-long economic despondency
Close your eyes and it could have been a George Osborne Budget, circa 2011. Taxes so stealthy it takes a ninja to collect them, crippling austerity measures dressed up as compassionate largesse, spending cuts on the way into a recession presented as uncontestable economic orthodoxy, yet more cash for pensioners, shameless larceny of Labour's most popular policy. And, of course, warm words on climate action, with next to nothing to back it up. At times, even the intonation was the same.
It would be churlish not to acknowledge that Chancellor Jeremy Hunt is wrestling with an unbelievably bleak fiscal inheritance - left to him by colleagues he went out of his way to praise.
Equally, it is important to note that his rhetoric on climate action is both admirable and hugely welcome. It is no longer a given that Conservative chancellors support the UK's climate goals. Only a few months ago candidates to be the next Prime Minister were talking openly of shelving the UK's net zero strategy - one of them is now the Home Secretary, the other is Trade Secretary and widely tipped as a leader in waiting. So to hear Hunt not just back the UK's emissions goals, but declare that "cheap, low carbon, reliable energy must sit at the heart of a modern economy" represents an important victory for the green economy.
Better still, Hunt broke with Treasury tradition by explicitly stating that energy efficiency should be regarded on an equal footing with investment in new energy generation. Long-standing arguments that energy saving presents the most cost effective way of both cutting carbon emissions and curbing energy bills appear to have finally landed with Number 11. The government's continued support for Sizewell C will command a lot of the headlines, but the new goal to cut energy use by 15 per cent by 2030 is arguably more significant.
Moreover, the under-reported support for innovation funding continued one of the few economic bright spots from the past decade of Tory government. Plenty of clean tech firms will benefit as a result of the combination of grants and tax breaks Conservative Chancellors have quietly sustained throughout the turbulence of recent years.
And yet, that is where the good news pretty much stopped. This was a speech where Hunt stressed the importance of climate action to tackle an "existential" threat, and then launched a tax raid on renewables and EVs. He highlighted his commitment to renewables, carbon capture and storage, and "above all" nuclear, and then announced action on only the last of those clean energy sources. He promised measures to bring down energy bills, and then did nothing to lift the de facto ban on the cheapest form of clean energy. Indeed, the Guardian reported yesterday that the effective ban on new onshore wind farms could soon be extended to hundreds of planned solar farms.
The windfall tax on clean energy generators is particularly egregious, not because it targets windfall profits that some operators have undoubtedly enjoyed, but because it is at a higher rate than the windfall tax on oil and gas firms and does not come with the same generous tax breaks for firms investing in new projects. The investment signals are frankly terrible. If this new tax pushes up the cost of capital for renewables projects even fractionally it will have a huge impact on the overall cost of the clean energy transition.
Similarly, new taxes on EVs were always inevitable as they come to dominate the UK's fleet. But imposing vehicle excise duty on EVs from 2025 when the UK is lagging behind other leading EV markets and fuel duty for petrol and diesel cars has been frozen for over a decade will only serve to slow the transition to zero emission vehicles.
Even the long-overdue action on energy efficiency does not stand up to scrutiny. Hunt attempted to brag that the government was set to deliver £6bn of energy efficiency funding over the course of this Parliament, but that is well short of the £9.3bn promised in the last Conservative manifesto.
Meanwhile, the promise of a further £6bn of funding will not be delivered until 2025. The plans for a new Energy Efficiency Taskforce and the confirmation of more funding in the future should encourage energy efficiency businesses to invest in boosting their capacity, especially when Labour is promising an even bigger expansion of efficiency programmes. But Hunt's efficiency announcements will do nothing to help the millions of households and businesses struggling with their energy bills this winter and next. As the FT's Jim Pickard observed, "if this government was really serious about insulating homes it wouldn't be lifting expenditure on this in *squints at notes* three years' time".
And well before any additional energy efficiency policies and funding materialise, businesses will have to wrestle with a sharp increase in energy costs, after the Treasury quitely confirmed the current bills support package for non-domestic energy users will lapse in April, at which point the "overall scale of support the government can offer will be significantly lower".
All in all, it really was an Osbornomics Budget. Measured and reasonable sounding, but politically cynical and badly underpowered in all the strategically important areas the UK so desperately needs radical action. Worst of all it was underpinned by precisely the same fundamental economic short termism and fiscal hawkism that condemned the UK to its first lost decade and now looks set to condemn it to a second.
It is hard to understand what Hunt, Sunak, and Osborne, who has reportedly been advising the new Downing Street team, think will now happen. That the UK's economy will quickly bounce back from the third - or is it the fourth - Tory recession? That the UK's appalling levels of energy efficiency will just tread water for a few more years, when a modest increase in funding will suddenly sort it out? That international energy investors won't notice renewables generators get taxed more than oil and gas firms in the UK? That the small businesses that were on the brink of collapse in the face of soaring energy bills last month will be OK when bills rise again in April? That diplomats at COP27 calling for increases in climate finance will miss the fact the UK's international aid budget remains frozen? That the legalling binding emissions goals the government is currently off track to meet will just disappear? That no one will notice that they are trying to fix a crisis created by colleagues who they don't dare criticise? That an economic strategy that failed on its own terms a decade ago will work this time around? That the climate will just stop changing?
The whole strategy is the definition of insanity. It doesn't take Einstein to see it won't work.
A version of this article first appeared as part of BusinessGreen's Overnight Briefing email, which is available to all BusinessGreen Members.