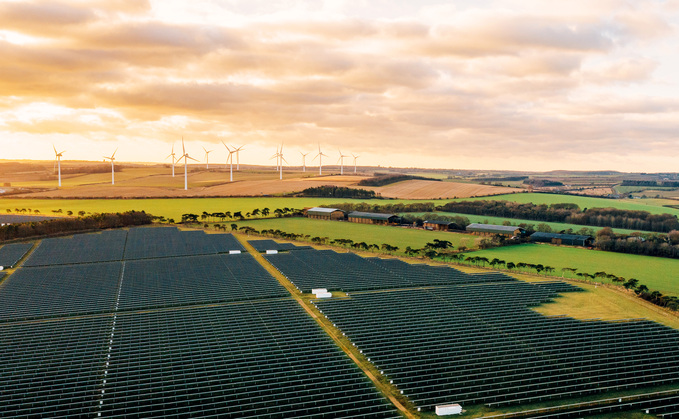 Industry Voice: Bruno Gardner, head of climate change at Phoenix Group, on the importance of publishing plans in line with industry guidance, why Phoenix adopts an engagement-first philosophy and why industry collaboration and engagement with the government is key
Using investment scale to deliver real impact
Real economy decarbonisation by 2050. It's a target, rightly, on many of our minds. But for me, it raises two key questions: is the finance industry doing enough, and what needs to change for us to make a greater contribution?
Finance clearly has a crucial role to play. And as one of the UK's largest asset owners with around £0.3tr in assets and 12 million customers, Phoenix Group has the investment scale to create considerable positive and sustainable impact.
But what's clear to me is that no single business, however large, can or should work alone. To deliver real change, our industry needs collaboration, it needs challenge and it needs encouragement.
That's why, at Phoenix Group, we're committed to playing an active role in driving forward the wider market and policy changes that will be necessary for the UK to become a net zero economy by 2050.
What's more, everything we do at Phoenix Group places customer interests front and centre. After all, 80 per cent of our customers have told us they are concerned about climate change and most believe it's important that we invest in a responsible and sustainable way on their behalf. So as we decarbonise, our focus is on managing the risks and maximising the opportunities of climate change for our customers.
Aligning net zero transition plans with industry guidance
Last month's publication of our Net Zero Transition Plan marks an important milestone on our journey to being a net zero organisation.
Our plan brings together the positive steps we've taken to date, with detail on the tangible action we're taking to deliver real economy impact at considerable scale. Drafted in line with guidance from the Transition Plan Taskforce, which we helped shape, and from the Glasgow Financial Alliance for Net Zero, we'll update on our progress annually.
Our plan sets out the three core principles in our Climate Action Model:
Investing for the future by managing risks to transform our portfolio, effective stewardship of our assets and investing in climate solutions.
Engaging to multiply our impact, with our customers and employees as well as more widely with our partners across the sector.
Leading by example by reducing our direct emissions and working with our suppliers.
We are making good progress towards achieving our 2025 interim targets, which will see us reduce the carbon intensity of around £160bn (based on 2021 valuations) listed equity and credit assets by 25 per cent. Over the next 12-18 months we are planning to decarbonise c£12.5bn of our shareholder corporate credit, and apply a customised decarbonising benchmark to c.£40bn invested across our UK and US equity portfolios.
While our operations and supply chain account for just a small part of our overall carbon footprint, we have clear action plans in place and have already achieved our 2025 Scope 1 and 2 decarbonisation targets for our own operations three years ahead of plan.
Other levers: Engagement-first approach and indirect engagement
As a large asset owner, we have numerous other levers at our disposal. We have clear stewardship responsibilities and adopt an 'engagement first' philosophy, with the objective of using our position of influence to bring about change within the companies we invest in.
As part of our approach, we've identified 25 companies who account for 40 per cent of financed emissions in highly emitting sectors across our listed equity and fixed income portfolio. We will be supporting their transition to net zero with a closely monitored three-year engagement strategy that we have started to implement.
We are also working closely with our asset management partners on indirect engagement and our wider engagement programme covers nearly 70 per cent of listed financed emissions in highly emitting sectors.
Calls for industry and government
But we're not naïve - we know we'll need to evolve over time, as our targets become more challenging, especially as we become increasingly dependent on the decarbonisation of the wider economy. That's why we're committed to working with industry partners and the government to drive system wide changes that will be necessary to be a net zero economy by 2050.
In particular, we need a greater level of detail and specificity from the government on how they will deliver their long-term vision for a net zero economy. Part of this is a clear, sector-specific regulatory and investment framework which provides the necessary ambition that will enable private sector investment into climate solutions flow at scale.
We welcome the proposed reforms to Solvency II regulations as a key component of the changes needed to the wider UK investment landscape to enable us to meet our ambition to invest more in sustainable assets and climate solutions.
Market transformation is needed to develop new investable business models and partnerships that unlock investment at scale. To this end, Phoenix is supportive of the government's plans to consult on making Net Zero Transition Plans mandatory for all large businesses.
Looking ahead
So, to return to the opening questions, is it enough and what needs to change?
My personal sense is that finance has all the right intentions to use its scale and impact effectively to ensure a net zero economy by 2050 - but these good intentions can only be realised through action, self-measurement, industry collaboration and supportive regulation.
Bruno Gardner is the head of climate change at Phoenix Group.
This article is sponsored by Phoenix Group.