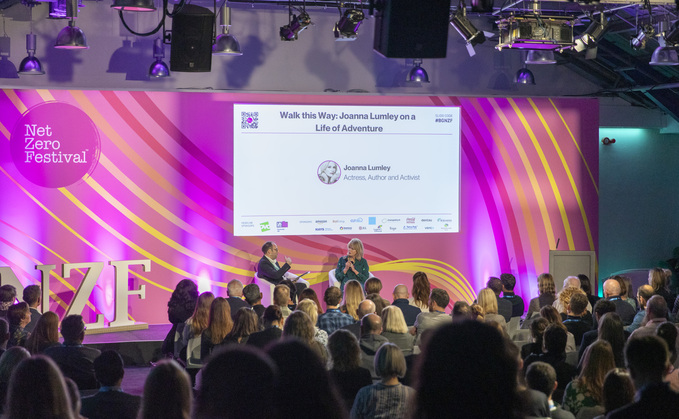 12 thoughts on an inspirational few days at the Net Zero Festival 2023
It has been an extremely busy week at BusinessGreen as we delivered this year's Net Zero Festival. It can be a discombobulating experience staging an event on such a scale, with 150+ speakers and over 3,500 delegates. There are a lot moving of parts to manage, even before you consider the prospect of XR protestors disrupting proceedings because they take exception to the entire concept of net zero.
I'm extremely proud of both the work the team put in to deliver such a professional event, and the inspirational audience we are privileged to serve.
Having finally taken a breath, there are a several themes that emerged from this year's event. Here are my initial notes on a Festival:
1) We are at an inflection point. The UK is pretty much halfway to its net zero targets. Experts think global emissions are about to peak. As Chris Stark at the CCC said, corporates are moving past the initial "sugar rush" of setting net zero targets and are starting to act.
2) A playbook is emerging. The political consensus on climate action may be fraying, but the consensus among the biggest companies is strengthening. Net zero strategies at the leading firms are increasingly similar: audit emissions, set targets, electrify everything, focus on efficiency, develop credible long term investment plans, ramp up R&D in hard to abate areas, communicate what you are doing, catalyse change in the supply chain, lobby for bolder policies, only offset the last 10 per cent of emissions at most.
3) Criticism is inevitable. The transition will inevitably prove controversial in some quarters. There is a need to lean into this criticism, respectfully listen to alternative critiques, but also make it clear that most businesses are acting in good faith and know that they need to do more to deliver on their goals. We are on a journey.
4) That means communication matters. There is an urgent need to talk about the net zero success stories and be open about the challenges. Only by normalising the transition and acknowledging the barriers can it accelerate.
5) Much more is needed from policymakers. Businesses are doing a lot, but in every corner of the transition it is possible to go faster with cost effective and ambitious policy measures. The lack of political leadership remains maddening.
6) We are in a world of trouble. The climate impacts are getting worse all the time and the rate of warming in the Arctic could unleash immense disruption. We are not even close to being sufficiently prepared.
7) There is no such thing as a typical business. Sometimes the 'business community' is too broad a term to be of much use. The approach to net zero from corporates, SMEs, and start-ups will necessarily be different. Some business may lobby against more regulation, but many others want more effective green rules and policies. Equally, even within companies with insufficiently ambitious net zero policies there are often people on the inside lobbying hard for bolder action. Net zero has to be a broad church.
8) We need positivity. Alastair Campbell said green was cheaper, fairer, and delivered better living standards. That is the core message and it is critical net zero advocates are not distracted from it by getting dragged into endless culture wars.
9) Climate change is an everything problem. There is no part of the economy immune from the changes that are coming, whether you like it or not. That means the risk equations have changed. It is less risky for a business to proactively engage with this transition than it is for them to stick with business as usual and hope for the best. Multiple 'Kodak moments' await for those companies that fail to respond to the clean tech revolution.
10) Beauty and culture matters. The Festival was a real Festival. There were poets and comedians and the inspirational Joanna Lumley. They told a story of resilience and natural beauty and laughter. I was slightly sleep-derpived, but I don't mind admitting I had a tear in my eye listening to a poem about regenerative farming and a single skylark. It is vital to remember what we are fighting for.
11) There is so much more to talk about. The Festival ran over two days, featured four streams, and boasted over 150 expert speakers. But in some crucial areas of the net zero transition we barely scratched the surface. We want to do more on net zero in the public sector, technology adoption, climate adaptation, AI, art and culture, polling, the skills gap, project management, the list goes on and on. And that is why we need your help. Please do get in touch and let us know how we can improve and expand the Festival further - how we can all move 'faster, together'.
12) I need some sleep. Before then getting started on work for next year's event. You can already save the date for Net Zero Festival 2024 and register for updates here.